We had a nice city break in the compact and cool city of Belfast. Mum came with us and the M-boy and Simon was doing his poetry thing. He was reading with the Doire Poets showcase in the Crescent Arts Centre. Mum stayed with M-boy very kindly as he really does not quite dig poetry just yet!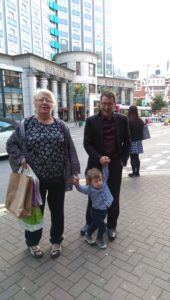 We arrived in and the lovely and very poetic Stephen Connolly welcomed us to the lovely Green Room. It was a super Green Room full of nice beverages, treats, dips and sweet things to munch on and drink while we waited.
Stephanie Conn and Michael J. Whelan were also reading with Simon and we had a lovely chat with them and their families who were up to support them.
Simon's Uncle and Aunty were in the audience to listen to Simon, which he was delighted with as they live in Canada but were in Belfast that week.
Stephanie read from her debut collection, the woman on the other side and Michael's collection is called Peacekeeper. Stephanie reads very well, I discovered she is a teacher so that explains her excellent reading voice though Michael read his poetry about his experiences of war with emotions well too.
Simon read 6 of his poems and it feels like Ground hog day as over the last five years of him writing these poems, I have heard them again and again. He was still great and sounded very fresh!
Afterwards, we had a drink with Stephen Connolly and we talked about all of the inside gossip of the fiction and poetry world. He walked us to a Japanese restaurant called Sakura in the University District that he recommended and it was really good.
It was a shame I didn't get to the Short story talk but it was on at the same time as the Doire Press folk and I had to make a choice. Jan Carsen and other new Irish short story writers were speaking but I am sure I will catch them again.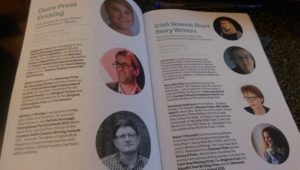 The Belfast Book Festival is one I would love to see more of but we took time to explore the Black Cab tours of political Belfast and Long's Fish and Chips restaurant too. A girl cannot spend her time obsessing over books, you know but No Alibis Bookshop was sussed out in the end as was a really nice coffee shop that did refined sugar free goodies in it called Kaffe-O. A Hotel Chocolate shop may have been visited too.