First up, we have the very religious and very Christmassy poem from Patrick Kavanagh, A Christmas Childhood. This poem is told from an adult's viewpoint to begin with then switches to that of a child. It tells us that really only the young can fully enjoy the wonder of Christmas and its magic. However, as an adult, it may come back in snippets. Kavanagh evokes crystal clear images of Christmas and what it was to him and many of the people who read this, I would assume. I love Christmas and can relate to the innocence and awe that is lost by the child once they become an adult. That does make me sad. However, I get the impression Kavanagh was a holy man and this comes across strongly in the poem. There is an old-world feel to this, typical of feel that we get from reading Peig Sayers. A time and place that is gone but yet, important but perhaps not that important enough to be my Poem for Ireland.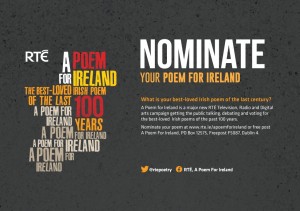 A Disused shed in Wexford by Derek Mahon. I'm didn't connect with it but I can see it is a powerful poem about history and the pain of the people in it.
Dublin by Louis MacNeice-I really liked it. Brilliant imagery. I am there with him.
Easter 1916 by W.B. Yeats is a strongly evocative and emotional response. I have always really liked this poem. A terrible beauty is born..and so many other great quotables from this poem.
Fill Arís by Séan Ó Ríordáin-I can't get on with the theme or the idea behind this poem. It is old-world. There is so much more to life that the life that Sean tells us to return to. I'm not sure if this Ireland exists anymore apart from when the tourists come out. It's a no from me.
Filleadh ar an gCathair by Ailbhe Ní Ghearbhuigh. This poem is the opposite of the poem Fill Aris and its thoughts. The city rocks and pulses in this poem. I loved it. The short, snappiness of the language and the words. The images it brings up. This poem loves the city. It's a modern classic. This is my third favourite for A Poem for Ireland.
Making love outside Aras An Uachtarain-I am not overly keen on Paul Durcan's poetry. He is what some people describe as "gas". His poems always try to make the reader laugh with their apparent cuteness. The title here might win it the Poem for Ireland alone but that's not enough, in my opinion. People will need to read this poem and the other 9 poems and make up their mind without simply reading the title and thinking it's "hilarious". Once you get over the title, there is not much left there.
Quarantine by Eavan Boland is a simple narrative of a love story based in the Famine. I really liked it until I got to the end whereupon it became all preachy-like.
The Statue of the Virgin at Granard Speaks by Paula Meehan is my second favourite. I love the way Paula Meehan uses her voice and accent as a rhythm. This poem tells the story of a young girl who gave birth to a baby at the statue of Mary in Granard years back. It is told in the voice of the Virgin Mary and ends on the depressing point that Virgin Mary did nothing to help this girl and her baby. A statement on religion perhaps and humanity.
When All The Others Were Away At Mass by Seamas Heaney, the late master and hero of Irish poetry had to be featured in any Top Ten list of Irish poetry. This poem is simply beautiful and evokes a moment that everyone who loved their parent can relate to and be touched by. There are no tricks here. No showing off. It is a poem for everyone and that is why I make this my Poem for Ireland. This is my  favourite of the Poem for Ireland shortlist but I am unsure to whether this poem could be called my favourite Seamas Heaney poem or even my favourite Irish poem. I've got to pick from the ten here and that is the one I pick.
I predict Heaney will win as we love, love, love him. Or it may go the gas-sounding title. Choose wisely, guys! If you get the chance, you can read the poems here and listen to audio and watch archived footage from the poets themselves.