Here is something really cool and hip for you Apple and James Joyce fans! It's an iPad app for the short story, The Dead, Joyce's most famous short story from his collection, Dubliners. The Dead, the final story of the collection will be 100 years old this year and now we have an app to celebrate it.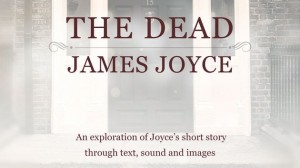 The Dead is a story where not much happens, as all good short stories and it demonstrates Joyce's genius in inventing what he dubbed "the epiphany". An epiphany in a short story can be a small shift, change in the characters or events that almost provides the reader and the narrator with a freeze frame.
It's about two sisters, Kate and Julia Morkan who are holding a big Christmas party, back in the day. It's January 6th, the feast of the Epiphany and the official last night of Christmas. They have many guests but we focus in on Gabriel and Greta Conroy. Greta hears a song at the party called The Lass of Aughrim and she starts to think back to her past and a certain young man who sang that song to her one wintry night. It ends with Gabriel, her husband making an awful discovery or having an epiphany on the Feast of the Epiphany(see what he did there) about his marriage and his life. Big questions and big issues.
UCD thought up the idea and Athena Media and Vermillion Design constructed the app. I worked with Lisa from Athena Design when I was involved with An Opera for Carlow project a few years back so I'm very excited to hear of this connection, they are innovative and lovely people to work with.
The app gives us the audio and the text, music and photos from the time and a couple of podcast commentaries. It is available to download completely free from iTunes and you really have no excuse.
What do you mean you don't own an iPad? Tut, tut.