I've given(sorry, Simon, my husband has) my blog another slight makeover. Holly Shorthall is a Fashion Illustrator and is also the daughter of brilliant new writer, Susan Stairs of The Story of Before. The talent in that household.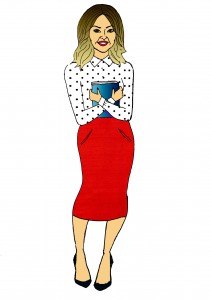 Holly has designed a new avatar for me and I am digging the sexy red pencil skirt and polka dot blouse! Book in hand, of course. You might not recognise me without that! She even got my balayage hair in!
Her fans include Imelda May, Saoirse Ronan and she is also going to be drawing for stylist, Courtney Smith  each month for her XPOSÉ magazine column
Check out Holly's page on facebook here and like to share and support her work.
What do you all think?