Bantry-my first day of the festival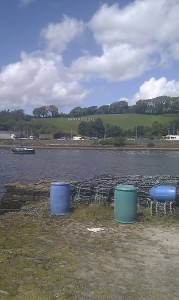 I've heard so much about Bantry and the West Cork Literary Festival that is held there every year. Our good friend, Derek from our writing group is always telling us to go, this is his fourth year in attendance. But, it is only my first so I was over the top excited when we hit the beautifully "everything an Irish town should look like" Bantry.
The first thing that caught my eye was the Hollywood-esque white letter signs spelling out BANTRY 2012. Placed on the hill above the marina and directly across from where we were staying, in the Maritime Hotel. Lovely idea. Most of the workshops and talks are held in the Maritime Hotel so the backdrop of the marina and the white sign make for ultimate photo opportunities! And, I used this prop well, taking hundreds of photos at different angles!
A stroll around the town of Bantry and a bit of letter writing
The weather was stunning when we arrived, we walked about, taking in the vibe-outdoor cafes with homemade ice cream, seafood eateries and old school pubs. We randomly came across a cute Coffee Shop called Organico, plenty of space and nice food. We got a spelt scone and strong coffee and sat and read. Bliss. As part of the festival, Organico are encouraging people to write letters.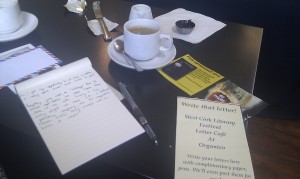 So, I received a complimentary writing pad, nice pen and wrote a letter to my family in Canada, something I'd been meaning to do for ages. The Coffee shop had left a letter box for any post, saying they would post it for me too! What a nice idea! It felt strange to write, my handwriting is appalling as I am so used to typing but I think my family will be happy to receive it!
Dr Diarmuid Ni Mhuirithe and his research on the death of Anglo Irish language
We decided we would go to one of the afternoon talks, Dr. Diarmuid Ni Mhuirithe was giving a lecture on Hiberno English or Anglo Irish, depending which side of the fence you are on! I did my Irish and English degree in U.C.D and Diarmuid had been the lead lecturer in the field of Hiberno English, he was one of the guys I really enjoyed attending and learning about the history of how we speak English and why. The talk was good, with lots of funny examples of phrases that we use and what they mean in standard English! There was a question and answer at the end and Simon asked him about where the word "craic" came from. Simon seemed to have hit Diarmuid's raw nerve. Diarmuid spat out the answer( in a nice way) he told us that craic, in fact is a Scottish word and it simply means "good chat". He seemed annoyed that this word has been changed into an Irish way of getting drunk. Diarmuid ended his talk by saying that Hiberno English would be dead very soon, adding that he didn't really know how to save it. Simon and I debated this very subject later on, coming to the conclusion that language only stays alive if it is needed and is in flux all the time. Still makes me sad though as I hope that Hiberno English is not replaced by some other random culture or sayings.
Fish Anthology 2012 launch
Fish were launching their 2012 anthology of stories and poems. Fish is an Irish publishing company that runs( among other services) an annual competition. Prizes are pretty nice, but the biggest one has to be reading at the Bantry Festival and being published in their anthology. The evening was really enjoyable, I loved the mix of genres and voices, we heard poetry, flash fiction, memoirs and short stories. We never heard more than a page, which is perfect for my attention span! I bought the anthology for €10, an excellent price for the amount of excellent and diverse reading you will get. Go pick up a copy on the fish website and even better, enter the competition next year! They offer a critiquing service, for a fee, which might be a good idea to start off with.
Seafood eating and a drink with a Welsh man
After this event, we headed off for a bite to eat. We ended up in a place called "The Fish Kitchen", which was divine! Service was warm and chilled out, while we waited for our table, the owner sent us across the road to the pub, Ma Murphy's. This pub is the real deal, reminding me of my own local, childhood pub, Dinny's Ferry Bar and shop in Rossport, Mayo. We had a quick drink in Ma Murphy's, chatting to the lovely Welsh man who owns the place. When our table was ready, the owner from "Fish Kitchen" nipped over to us, telling us to come along! The food was excellent. I went for haddock and chips, Derek went for monkfish and Simon went for trio of fish.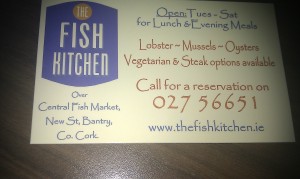 We finished off with proper home-made desserts, me a chocolate mousse, Derek a baked lemon cheese cake and Simon an Eton mess. I'd recommend this place.
A shy Rozzie just didn't get to read at the Open Mike!
Then it was back to the hotel for the Open Mike session, which is held every night as part of the festival. Most of the Fish anthology winners took up the audience and all wanted to read, which is fair enough but us newbies were dying to have a go too so we waited! Derek read some of his poems and did very well, Simon even got the courage up to read some of his Jewish poems and he did extremely well.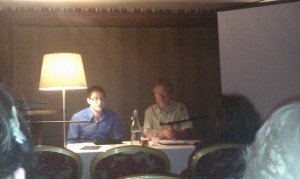 He read like a pro, giving some little details to add to the understanding. I know I am biased but he has some interesting things to say about religion and the effect it can have on people's lives, sometimes negatively. It was nearly 2 in the morning and I hadn't plucked up the courage to read. I am going to try again tonight! Wish me luck!