We are lucky people in Carlow. We have the best literary festival in the best venue with some of the best writers in the world! But, let's not forget the ideas, this is a festival of writing and ideas.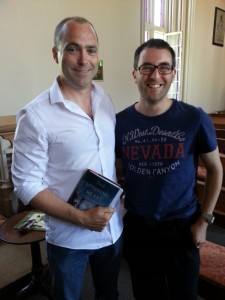 The setting of Borris House is perfect for lounging, reading, chatting, eating or doing nothing while you wait for the next speaker or reader to come on.
. We arrived on Sunday morning and were ushered into the Sunday Service-a ceremony for a Godless congregation. It was full of songs, happiness, morals and no religion. Although, it was in a church and it has that religious feel about it, I felt unburdened by the "New beginnings" theme. There was much to take from it and we left buzzing!
We had brought a bag of random things for a picnic-tinned tuna and spelt bread and they tasted so good in the sunshine. But, we had to rush them down as Donal Ryan was up next, he was sharing the stage with John Lancaster. Fintan O Toole was doing the interviewing. It was highly enjoyable, they all bonded well and Fintan kept the feel light and interesting. Had a brief hello to Donal afterwards and he was most nice and down to earth. I have yet to meet a non-down to earth author but I am sure I will one day and will be dreadfully upset.
We spent the rest of the day reading and had a walk down through the village of Borris. It is a beautiful village, made even nicer by the sun! We finished up the day with a spot of dinner from the Vendor-BBQed lamb, new potato salad, greens and tomatoes. Divine.
You really have to make it down to the Festival next year, it is going to grow and grow and I predict it booming next year. Well done to Hugo Jellett, the brain child of this.
Have a listen to "What a wonderful world", one of the songs we sang at the Sunday Ceremony. Tis true.
http://youtu.be/E2VCwBzGdPM