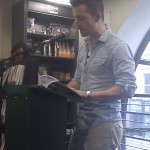 So, I was heading into my favourite, Irish bookshop "Hodges and Figges" last week and saw a sign outside. It told me sternly to head upstairs at 6:30 for a glass of two of wine. It also told me that Jamie O' Connell would be reading from his first short story collection "Some sort of beauty." Who was I to argue?
A quick text to my friend, Marion and I had forced her to come along too. There was a good crowd of all sorts of humans. James Ryan who lectures in Creative Writing in U.C.D. introduced Jamie. James said millions of lovely things and Jamie listened, looking slightly embarrassed. This was a good start for me. I hate over confidence.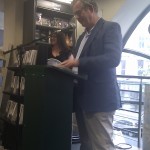 "Some sort of beauty" is Jamie's first short story collection and the title is inspired by Lady Gaga. Scratch that. The title is inspired by a writer called Rilke. He said that (amongst many other cool quotes about writing, life and reading) that we should…
"Find out the reason that commands you to write…Describe your sorrows and desires, the thoughts that pass through your mind and your belief in some kind of beauty"
Nice?
Jamie read the story of the title of the book "Some kind of beauty" and did a rather good job of putting on a Liverpudlian accent. The story he read speaks of his own background, Jamie was raised a Jehovah Witness and the story "Some Kind of Beauty" talks about a Jehovah Witness man who chooses his religion over his daughter. It starts off slowly but the ending demonstrates how little the main character has moved, a sort of epiphany for us more so than him.
I purchased the book, of course and finished the first 5 stories in one setting. Themes of internet, sexuality and religion make this collection extremely modern and thought provoking. The first 3 stories "Without Art" "Silencio" and "Demain" got me interested. I wondered where the blur betwee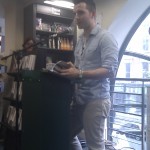 n the voice of the author and the narrator started/finished but realised that was the intention of the book, to begin with.
Clever intertwining of the book's title and the background to the author/narrator(who knows?) achieved the function that I am sure Rilke wanted. Urging others to look to yourself and your own ordinary life for the beauty and creativity that will surely be there.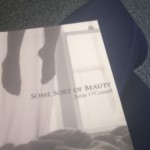 That's good fiction.
I was glad when the stories changed voice totally as my world is utterly removed from the student life of the first few stories. Although it sounded like fun!
I was impressed with the way O' Connell was able to gently switch from a gay man's voice to a little girl to a ranting woman quite easily. It's great to see young authors, with great dress sense and hair, writing daring stuff like this.
You can read about Jamie at his blog www.jamieconnellwriter.com or follow him on twitter @jamieconnell.
(Some Sort of Beauty is available to purchase onwww.bradshawbooks.com, www.waterstones.co.uk andwww.amazon.co.uk. It is also available in Irish bookstores.)