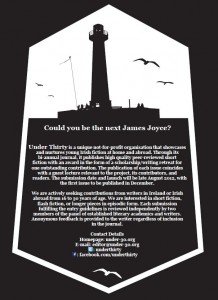 Under Thirty Writing project
Stephen Doherty had an idea. He contacted me a while back to tell me about this idea. As you know, I am part of the Carlow Co-operative Writers' Group and we love writing, reading and giving feedback. Stephen was looking for reviewers to help aspiring writers under 30. I was very excited and honoured to be asked so we started a conversation up!
In my first guest blog, he answers some questions about his new project
What is the project about?
Under Thirty is a new and unique non-profit project that nurtures and showcases young Irish fiction at home and aboard. It provides writers with access to a panel of experienced writers, literary scholars, editors and publishers who work entirely voluntarily to review submissions and provide feedback and encouragement to the country's aspiring writers.
Where did the idea for the project originate?
The idea originally came from my experience working with young people over recent years. Although coming from very different backgrounds, a commonality was that many of them used creative writing as a means of communicating their own internal worldview to the outside world – be it to a psychologist, a friend, a parent, or even to a stranger. Expressive writing can have a powerful cathartic effect for a writer, especially in a therapeutic setting. Coupled with the added dimension of fiction, such a process allows a writer the freedom to take a step back from the situation, and to share it with others without feeling embarrassed or exposed – a form of: "my friend has a problem". Others would also use examples from their favourite stories to relate their problems to what the characters in the stories are going through, and to express their emotions through a third party.
This concept of book therapy, or bibliotherapy, is employed as a psychological method and has a range of uses, and an important factor of its success is the perception of the writer of the attentiveness of the person they are sharing their story with. In a time where we have been encouraged to listen to the younger generation, to our children, it seems that many of them, at least in my experience, feel listened to but not truly heard.
In retrospect, this was the planting of the seed for the Under Thirty project. I wanted to find a way that these people could express themselves to the world and feel that they were really being listened to. By having established writers and scholars reading their stories, this adds a strong element of support, mentorship, and community to budding writers all over the country and abroad.
What do the panel do?
The panel consists of over fifty volunteers who offer their time and expertise to the project and its writers. After a blind preview process, all entrants are given back their manuscripts with suggestions and advice from the panel. The most promising submissions are selected for publication in a bi-annual journal, the first of which will be published in December. In this way, writers can be assured that their work speaks for itself, and the panel of reviewers have the freedom to truly feed back into the development of new writers, and provide them with the constructive criticism and motivation to go even further with their work.
The panel have been very supportive and helped the project reach out into many networks around the country and abroad. We have heard from schools, universities, writing groups, libraries, broadcasters and politicians, who are keen to be involved, and in this way it has grown from strength to strength.
How can submissions be made?
The project homepage www.under-30.org is the base for the project. Writers can make submissions via the website, and we also use it and social media channels to provide information about funding opportunities in the arts, connect writers of all experiences with one another through events and online fora, and to add to our growing pool of freely available resources for new writers. The deadline for the first issue is midnight on November 7th, 2012, but the bi-annual nature of the project means that the next deadline is never too far away and we can provide a very reasonable turn around to the entrants. The inaugural issue will be published in December as a soft-bound book and also as an e-book at a special event at Dublin City University.
Biography
Stephen Doherty is a post-doctoral research fellow in Dublin City University, where he researches and lectures in areas of psychology, cognition, and language. He has several years of experience as an editor, writer, and translator, and smattering of publications.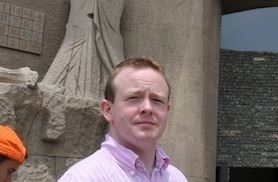 Website: www.under-30.org
Facebook: www.facebook.com/underthirty
Twitter: @underthirty