The Book of Gaza
You all know I love the short story form so when Comma Press asked me if I wanted a review copy of the latest "Book of" series, of course I was very excited!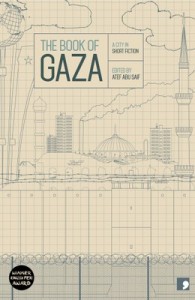 Under the Israeli occupation of the '70s and '80s, writers in Gaza had to go to considerable lengths to ever have a chance of seeing their work in print. Manuscripts were written out longhand, invariably under pseudonyms, and smuggled out of the Strip to Jerusalem, Cairo or Beirut, where they then had to be typed up. Consequently, fiction grew shorter, novels became novellas, and short stories flourished as the city's form of choice. Indeed, to Palestinians elsewhere, Gaza became known as 'the exporter of oranges and short stories'.

This anthology brings together some of the pioneers of the Gazan short story from that era, as well as younger exponents of the form, with ten stories that offer glimpses of life in the Strip that go beyond the global media headlines; stories of anxiety, oppression, and violence, but also of resilience and hope, of what it means to be a Palestinian, and how that identity is continually being reforged; stories of ordinary characters struggling to live with dignity in what many have called 'the largest prison in the world'.
Translated from the Arabic by Tom Aplin, Charis Bredin, Emily Danby, Alexa Firat, Alice Guthrie, Katharine Halls, Sarah Irving, Elisabeth Jaquette, John Peate, Adam Talib, and Max Weiss.
I've just started reading it and Simon is going to dip in and out as it is really interesting and relevant to him and his background.