The Boarding House, a short story by James Joyce. Available in Dubliners.
Another favourite of mine, The Boarding House is great example of a story that will never age. A "Madam" runs a boarding house and utilises her daughter, Polly to help her "entertain" the men. We know what type of house the Madam is running! It is a seedy look at Dublin and a cynical look at the power in social classes and money in Ireland at the time. Very much brings me to thinking of the Madam in the "Love/Hate" series. Not much has changed!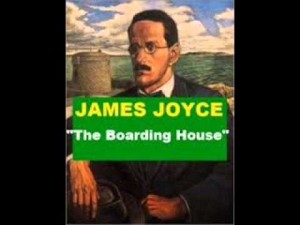 Polly is to be set up with a wealthy clerk, marriage is to be arranged and Mr. Doran, the clerk must accept the deal that Madam is making. Mr. Doran is perplexed. However, he is as bad as Polly's mother. Indeed, Polly is a deceptive woman too so the whole house is full of cunning thieves who will do anything to make money and get what they want. A good match.
"Dublin is such a small city, everyone knows everyone elses business" Still true today. Am looking forward to Orna Frawley's take on The Boarding House in my next blog post!