I developed and taught a short module on fiction this morning for the Carlow Writers' Co-operative group that I am a member of. The group are fundraising for a travel bursary so I was eager to help out!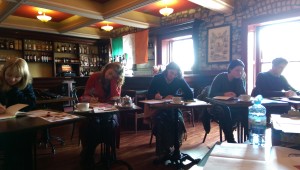 I am a primary school teacher by day and give courses for teachers in the evening. This was the first adult-type learning course I had given in creative writing. I was nervous but I really enjoyed it. I used all of my knowledge of teaching methodologies and planning and some of the challenges I face as a writer of short stories. I wrote while my students wrote, which I believe is of huge importance. I am not a big fan of the writing teacher who sits and watches or walks around while the students write. If the teacher is writing alongside her students then it helps him/her to relate to the challenges along the way. It was also a sneaky way for me to write!
This morning, we focused on setting and how writers like Claire Keegan have dealt with setting. I am going to add a tab on creative writing prompts that I use or have seen being used on rozz.ie so feel free to use and adapt! Would love to hear what you think.