Tea at the Midlands by David Constantine
This set of short stories has probably taken me the longest to read and to review. That is purely because they are packed with the kind of stuff that you need a breather from, a couple of a days or even a week.
David Constantine is a British poet, author and translator and most recently he won the Frank O' Connor Short Story Award where Tea at the Midlands was pitted against some strong writers like Deborah Levy and Black Vodka, which I reviewed recently here.
Tea at the Midlands is a hard but a freeing read once completed. Some stories demand more from you that others in the collection, for example Charis, a story about three siblings and the fall out after one of the three kills themselves, all siblings are mature in an old age. It is most depressing to think of older people thinking this way yet we know they must do as these are thoughts of all ages.
Most of David's stories are from a more mature angle, like Alphonse, a fun loving and energetic story about Alphonse, the shape shifting pensioner who keeps changing names and identity to escape being confined to an awful old people's home by his family. We cheer Alphonse on to the glorious end where he "sails into the south" with a couple on a barge.
In the story The House by the Weir and the Way, two elderly ladies, Odive and Sabela live in an ageing house. They are going downhill physically and when Odile gets sick, a chink of hope comes in the form of a young lodger. This is a beautiful and universal story, a future that we will all relate to and hope to emulate their energy.
In Lewis and Ellis, we have a condensed version again of the same type of relationship, two elderly men called Ellis and Lewis share a quiet bond but it is only when Ellis is diagnosed with a terminal cancer, the strength of their relationship is highlighted. Ellis has left Lewis all of his classics, his books, his memories and the theme of fiction as power is really brought to the equation.
But, some read so beautifully that they seem as if they are whispers of entertainment. But, of course not one of David's stories could be called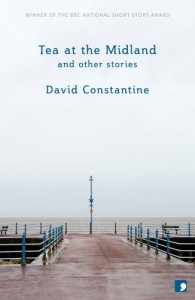 mere entertainment. Each line, paragraph and page is plumped with meaning, classical references and evocative representations of the landscapes. The power of nature and the way a landscape or the open fields or sea front can untie a person comes through in all of these stories. David is also a well-known poet, this shows in his choice of language and imagery throughout remaining meatier than the average story. He also uses a modern style of not using the apostrophe and allowing the characters' actions and dialogue to drift in and out of the narrative. This can be taxing on the reader but there is pay off for the patient people!
My stand out stories would be An Island, this is a long, short story, which I do enjoy when mixed into more shorter ones. A sad and moving story where nothing much happens but a former monk moves to a remote island. We feel his past and his turmoil. He writes and reads alone. He is reluctant to let anyone in and thinks constantly of the past. The island itself is made up of people leaving and returning and we sense he too will be heading that way. David's use of poetic in nature is present especially in this story as it is written from a first person narrative in a diary format. We see the inevitable end or at least we think we do.
Each and every story is gelled together by the power of narrative, imagination, fiction, stories or poetry. The power of telling a story is illustrated time and time again and I found this wonderful to be able to piece together the many puzzles David leaves for you. His imagination and his characters have no boundaries, they are all complex and pushy, they are all difficult. If you enjoy a story that will linger on your mind so much that you just have to read it again, then Tea at the Midlands is for you. I thoroughly enjoyed the collection and can see why he won the Frank O' Connor and the BBC National Short Story Award. Although, there are many stories on a more mature age group and the relationships that they have, David gets the youthful couple as well, he analyses people and the struggles and pain they go through, regardless of their age or where they are. It is a painful yet moving collection. Get a copy, read some slowly and put it away. Come back to it again.
Tea at the Midlands is published by Comma Press and you can purchase a copy of it here and also listen to him read some of his stories too. You can also purchase it in hard copy or kindle on amazon here and at audible for the audio version.
David will be reading at the upcoming Cork International Short Story Festival in September. It should be a treat.