I headed down to the Kilkenny Arts Festival this week. I was very excited as Kevin Barry was reading along with American short story writer, Ron Rash. I had read a harsh review of Ron's short story collection Nothing Gold Can Stay. I am not at all comfortable with overly critical reviews of literary works. I think the positive should always be focused on, a personal preference may be the issue here and there is no need to get too personal. I can only imagine how much the working writer much be beating themselves up every day without a journalist( who has probably never written or attempted to write anything before) starts to "give out". It always makes me sit up and want to read a collection if it gets a bad review. I like to make up my own mind, thank you very much so that is part of the reason why I was attracted to this event.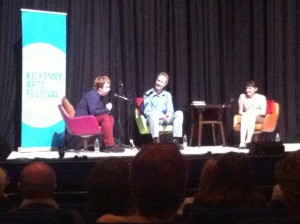 That and Kevin was performing. Yes, performing. I have heard Kevin read many times, it probably sounds like I am obsessed and determined to hear him read but he tends to read a lot as he is rather brilliant and he wins every award going! When Kevin reads, you are guaranteed of a great show. Last night, he was in top form, I think he gave one of his best performances and pieces. He read a story that was published in the New Yorker last year. I had not read it, thankfully as it was wonderful to hear him reading a new piece. It is hilarious, first of all and he divided it up into 17 different pieces, all numbered, which I think added to the drama and kept the audience focused as we can be quite attention deficit at times. The character of the Garda in this story deserves to be on screen. I have always admired Kevin's ability to bring an image of a character and a setting to life but this story effortlessly did so.
Kevin is Ireland's Quentin Tarantino and if Kevin is not working with either Tarantino or the Coen Brothers, well then I will be shocked and surprised and will start up my own film company and give him a job or something..
You can read this story here on the New Yorker and I am not a subscriber so I would not have access but Kevin kindly gave me a signed copy of the story last night as I was leaving. I went home on a high! I blame it on his polka dot shirt and new hairdo but mostly his generosity to me. It's the little things, guys!
And now, to Ron Rash, who I felt sorry at first. Wasn't everyone there to hear Kevin, IMPAC winner? Well, I thought that but actually Ron had many fans! A couple of ladies came in before the show, demanding to see "Their Ron" and were raving to me about his stories but especially his novel work. They also asked him questions at the end and were generally gushing over him. Ron's reading style was beautiful, he reads in a slow North Carolina( though he was born in South Carolina, he grew up in North) accent as he read the short story Something Rich and Strange. A powerful and gentle story about a death on a river that pervades a rescue diver's life and thoughts. Ron was in contrast to Kevin. Their energy gelled but their content was different. They both share a talent for describing how a landscape can shape a person's life and fate. I bought Ron's collection and had a quick chat at the end and he was altogether a very nice and pleasant man but Kevin has yet to be beaten.
I enjoyed last night so much. It can be disappointing when you meet your heroes but Kevin is always so gentlemanly and friendly to all of his readers. We can see why he has been so successful. Good people always win out. He is currently working on scripts and screenplays and there was a big discussion on Breaking Bad, The Wire and the new TV box set to watch as tipped by Kevin is Deadwood.
Now, I am away to gaze at my signed story and purchase Deadwood. Tonight, I am attending September 1913. September 1913 is one of Yeats' most famous poems: a response to the Dublin Lockout  and an attack on the philistinism of the city's merchant classes.
To celebrate the poem's centenary, Kilkenny Arts Festival brings together two leading Yeats scholars, introduced by Cormac Kinsella, to explore the world of the poem. Professor Denis Donoghue is Henry James Professor of English and American Letters at New York University and a leading authority on Irish writers. Professor WJ McCormack is a former Senior Research Fellow at the University of London whose 2005 biography Blood Kindred offered a radical new interpretation of Yeats' life and work.
Until we meet again, be good and nice to each other and keep reading.
*I borrowed the photo of the event from John Shorthall, Carlow Library who attended the event as I was a Kilkenny Arts Festival Volunteer and could not take photos while I was working. Just in case you were wondering! thanks, John!