It has begun raining here and Bantry is a memory of heat and sun and niceness.
Bantry was brilliant this year, probably because I sat a class with John Mac Kenna. He gave us homework, which seemed like a pain at the time but it was hugely beneficial and created lovely memories sitting with my husband at the top of the Maritime Hotel looking out over Bantry Bay. Pure bliss.
Deborah Levy was a recent read of mine, I had been sent her short story collection Black Vodka from her publishers and other stories and was on a mission it to finish it before Bantry as Deborah was going to be reading there.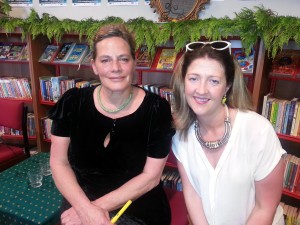 She read a few of her stories in the Bantry Library. She definitely was my reading of the festival. Her stories were emotionally heightened by the way she read them, she is a witty woman and was utterly relaxed as she performed. We got to ask questions after and I had to ask about one of her stories. She answered it well and I wondered if authors get annoyed by the fact that readers don't sometimes get their meaning fully and may interpret something else from it instead. She signed my book afterwards and I spotted her mingling with the biggies, Ann Enright, Nurrudin Farah and Louise Doughy in the Maritime Bar afterwards.
Also, that week we went to the Launch of Organico Cafe's Letter Writing Cafe with Phillip Hensher speaking on the merits of handwriting.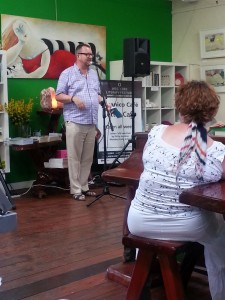 The cafe gives out free letter writing kits every year and will even post your letters during the festival I sent one to my Aunty in Canada, it does feel off to hand write! I am not sure if Phillip convinced Simon as he wrote him a letter speaking about the benefits of technology. We haven't heard back yet but I will keep you posted!
I couldn't possible talk about all the other things in Bantry like the morning walks down the harbour, the fish and chips and visit to Bantry Museum. I've put a montage together of all the moments so enjoy! Get yourself down to Bantry next year!