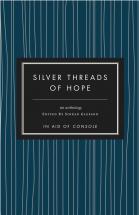 Review:Silver Threads of Hope-an anthology in aid of Console
I am becoming more and more obsessed with covers of books. It's not a bad thing, is it?
Well, Silver Threads of Hope-an anthology of short stories has the most divine cover. It would suit a dark mahogany type sitting room, perched at the corner of a dark coffee table. Which is kind of what we have! The cover, designed by Martin Gleeson is a festive set of silvery strings or threads across a navy blue striped background. Navy is my black.
Eoin Purcell from New Island Books sent me on a copy of Silver Threads of Hope to review on rozz.ie and I was delighted to be able to do so.
The book is my idea of bliss, warmth, duvet days, warm drinks and hope…of course, hope. This anthology is sold in aid of Console,  a suicide and prevention service. Of course, I had heard all about it first from Nuala at womenrulewriter.blogspot.com as she attended the launch night. What drew my attention was there was a new Kevin Barry story in it and even better his story featured first as it the anthology was listed in alphabetical order!
Kevin Barry has a brilliantly funny story called Supper Club where awful, hateful people make…em..awful, hateful food. Great fun and typical Barry style.
The anthology has one of the best ranges I have read, it is made up of longer, medium length, short and really short stories. Some are quite serious like I've hardly slept at all by Trevor Bryne, a story about an ordinary day which ends in sadness and Squidinky by Nuala Ni Chonchuir. But, some are pure entertainment and slliness( I use the word silliness in a complimentary way!) like Urban myths by Emma Donoghue, Karaoke by Roddy Doyle and Prisoner by John Kelly.
I really, really loved Prisoner, it's a great comedic romance written in the male voice based in a town which is clearly based on Dingle. A young guy sits at the bar in a hotel and waits to see his true love get married off to an idiot. Don't worry, there is a happy ending, this is a book about hope!
Some…(scratch that)one is downright "interesting" like the Bendy Wood experiment. Help? Explain?
But, my favourites were Windows of Eyes by Christine Dwyer Hickey and Yes by Colm Keegan. I hate picking favourites but you will have your own too. Windows of Eyes is about a journey through Dublin that a homeless woman takes. It all goes along at a slow pace, nothing happens until the very last paragraph. It's what the woman does that shocks you and that takes you right out of your snug, little, warm house into her reality. Brilliant.
Yes is a story about ice, coldness and a husband's struggle to survive after his wife is killed in a car accident that he caused. A truly hopeful story that describes the outdoors in a way you have never read before.
Silver Threads of Hope is a brilliant read, it is suited to all tastes and ages. There are traditional, entertaining, moving and more literary short stories features here. The anthology links the theme of hope very well but I wonder why the Editor decided to situate the stories in an alphabetical order as opposed to any other way.
Not only is this is a great showcase of the Irish writer and how generous they were to donate their stories but with all the sad news about suicides in Ireland this year, it's great that proceeds will go to C onsole. Though, don't but it just because you want to give t Console, buy it if you want to immerse yourself in a warm fuzzy feeling of hope as you navigate your way through some of the best new and old fiction writers that Ireland has. An excuse in itself.
Silver Threads of Hope, an anthology can be purchased from New Island books at http://www.newisland.ie/books/bestsellers/silver-threads-hope/9781848401815 and Easons, all good bookshops etc!