Review of Mount Merrion
Rozz only has two eyes, which only gives her the ability to read one book at a time so when she was sent a load of books to review, she asked me whether I'd like to do one or two. I decided that one was the better option as I still have a big pile of books at my bedside, all of which are poetry books, and I dip into them every night in such a way that I will probably finish 8 at the same time one evening in the distant future.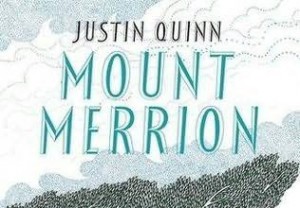 One of the books in her collection was by a man who was familiar to me: Justin Quinn. We have a friend in our writing group who mourns when one of the poets amongst us writes a piece of prose. Justin Quinn appears to have left the poetry-flock. I really like Quinn's poetry – I love the way he structures his poems and the inventive rhymes he comes up with – I was wondering what kind of novelist he would be.
Mount Merrion is a book about a family and it starts off in a hospital where we meet the main character, Declan Boyle, who comes from a fairly well-off family and through the various ways that Irish people tend to do well, that is, who you went to school with, who you happen to be related to and so on, Declan does indeed do well. He meets and marries Sinéad through the same means and they have two children, which wasn't anything to do with school or politics.
The book is divided into chapters representing Ireland at different times from the 1940s through to 2003 when Ireland is stinking rich.  The book deals with issues like health, schooling, business and alcoholism through the journey of the family.  It's a pleasant story and you get to know the family nicely along the way as it jumps from era to era.
For me, the whole book turns on a single paragraph, which would be unfair to share with you so if you do read the book, don't skip or skim by anything or you're likely to miss out. It's a very shocking turn and gives the book an unexpected jolt.
As Justin Quinn is very familiar with the world of communism, there's a smattering of that in the early part of the book and a bit of an over-indulgent chapter of post-communist Berlin in a later chapter, which I think was a little unnecessary. The book ends in a hospital, which wraps things up nicely. In fact, one of the great strengths of the book was how Quinn ends his chapters and thus, the last sentence of the book is perfect.
Is Justin Quinn a better poet than a novelist? I don't think it's for me to say. I enjoyed Mount Merrion very much and I think he grasped the way the upper echelons of Irish society live very well in all its aspects. I hope we haven't seen the last of Justin Quinn, the novelist, but equally, I hope we haven't seen the last of the poet either.
This review was written by Simon Lewis of www.anseo.net, www.mash.ie and www.simonlewis.ie fame. He also read Mount Merrion and really likes Justin Quinn's poetry so he is the ideal reviewer for this novel.
Mount Merrion is published by Penguin Ireland.