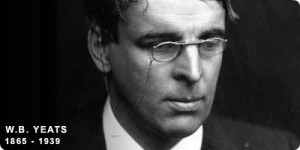 Remembering September 1913-Kilkenny Arts Festival with W.J. McCormack &Dennis Donoghue
I got the chance to nip into this talk at the Arts Festival the other night. This talk was held in the most fabulous of venues, the Parade Tower in Kilkenny Castle.
Cormac Kinsella, the curator of the festival introduced the two renowned literary historians and Yeats obsessives. It was a lively evening with each taking the stage and going into minute detail of the poem September 1913 below.
What need you, being come to sense,
But fumble in a greasy till
And add the halfpence to the pence
And prayer to shivering prayer, until
You have dried the marrow from the bone?
For men were born to pray and save:
Romantic Ireland's dead and gone,
It's with O'Leary in the grave.
Yet they were of a different kind,
The names that stilled your childish play,
They have gone about the world like wind,
But little time had they to pray
For whom the hangman's rope was spun,
And what, God help us, could they save?
Romantic Ireland's dead and gone,
It's with O'Leary in the grave.
Was it for this the wild geese spread
The grey wing upon every tide;
For this that all that blood was shed,
For this Edward Fitzgerald died,
And Robert Emmet and Wolfe Tone,
All that delirium of the brave?
Romantic Ireland's dead and gone,
It's with O'Leary in the grave.
Yet could we turn the years again,
And call those exiles as they were
In all their loneliness and pain,
You'd cry, 'Some woman's yellow hair
Has maddened every mother's son':
They weighed so lightly what they gave.
But let them be, they're dead and gone,
They're with O'Leary in the grave.
They argued very respectfully on the use of certain pronouns in the poem but admitted they were very good friends despite their literary differences. The two men were really great characters and they spoke about the misconceptions that people have about the poem. They spoke about Yeat's disdain for a middle-class Ireland and how he upset many people  by writing this poem by saying the Catholics did not care about anything but making money.
I would have liked a bit more discussion about this poem's relevance as the post-celtic theme of literature is crying out for this sort of analysis and seeing as we had these experts, it would have been interesting to delve into that.
Instead, I will have make do with a recording of the moving poem. Here it is!