I have read and loved Black Vodka by Deborah  Levy and also met her at Bantry this summer. When I saw she was releasing a new essay type book called Things that I don't want to know, (a response to George Orwell's Why I Write) I thought I would step away from my normal fiction reading diet.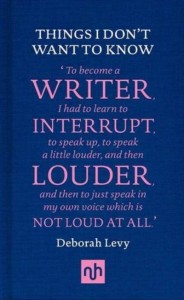 I read this beautiful cornflower blue, mini, hardbound book in a few nights. It was delicious, it starts off with a flash of Deborah's life and her escape to Majorca. It then flicks back to her youth as a South African girl and her family's retreat to England.
The book is firstly a small memoir of her life, interspersed with South African politics and why she decided to start writing and who inspired her to write. She comes to the conclusion that we should write about things that we want to avoid, the awful things, the things that get us down or the things that might unsettle other people if they knew it about you.
This book is one of my favourites this year. Anyone interested in writing, reading or just wants a pretty nifty book to read, should get it.
Things I don't want to know by Deborah Levy is available at http://www.nottinghilleditions.com/books