So, my least favourite and least predicted won the prize!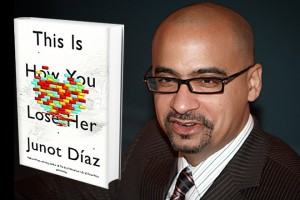 First of all, congratulations to him! €30,000 is a pretty nice fee to command for a short story!
You might have read my previous posts. I loved most of the short stories and I did like this. In fact, it is a perfect short story but I thought there was no freshness of content of theme to it. Look the The Gun and we have all of that and more, it also manages to be an easy to read story. I had to repeat some of the lines from Mark Haddon's wonderful piece.
Miss Lora, not as much,for me and that is a totally personal thing.
It was a public vote so it could have a won by a couple of hundred people and maybe, the story maybe appealed to a more conventional or popular type of view of what a short story should do. Entertain and it did that. It's just that everyone has their favourites!
Don't get me wrong, if I even hoped to write in a quarter of the way Junot did, I would be delighted! IJunot sheds some light on the story http://www.guardian.co.uk/books/2013/mar/22/junot-diaz-wins-short-story-prize and he seems to be very modest and a clear lover of the form. I'll have to read his full collections Drown and This is how you lose her, which Miss Lora come from.
His comment about writing goes a long way to explain his stories.
"There are two types of writers: those who write for other writers, and those who write for readers,"and that he prefers to keep his readers in mind when writing, as "they'll be more likely to gloss over his mistakes and act as willing participants in a story, rather than actively looking to criticize his writing."
Here's to another year of mind moving tales!