Festival of Writing and Ideas in Borris 2016: Best talks to go to on the Sunday
From the 10-12th June, the amazingly lovely and pretty Festival of Writing and Ideas will be launched on the very pretty town of Borris in Co. Carlow.
I've been to many, many lit festivals and Borris is absolutely in the top two to visit in Ireland. (Bantry is the runner-up this year, IMO) The FOWI (Festival of Writing and Ideas) 2016 is in its 5th year. We have been to every single one, the first was small but so nice and this year it is big but absolutely keeping its edge and uniqueness. It is spreading into the town/village this year with some events taking part in pubs and the Step House Hotel. Brilliant move.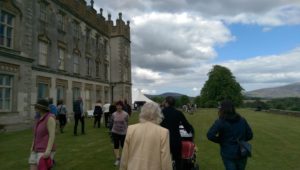 I am going to name-check a few events that you really should make an effort to go see if you are in the area of Carlow on the Sunday, 12th of June 2016. I have also a small article on what to see on the Saturday on the blog.
Early start at 11 with the Granta New Irish Writing editors along with Sara Baume, Lucy Caldwell and Donal Ryan in the chapel. I am really enjoying this magazine at the moment so this talk should be good.
You will have about half an hour to breathe, drink coffee, eat sweet things and then saunter over to the Book Tent where Tom Morris has a curated reading hour with Claire-Louise Bennett, Gavin Corbett, Lisa Mc Inerney, Deborah Levy and Rivka Gachen. Lisa has just won the Bailey Prize and Deborah Levy just rocks along with Tom's wonderful short story collection, this is going to be most excellent. Get in there and buy some books after!
Don't leave the Book tent though as there is a @Two poets@ event with Simon Lewis reading from his just launched poetry collection, Jewtown and American poet, Rachael Mennes will respond. Should be interesting. Both of these events are free.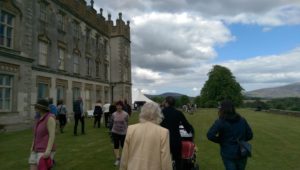 At 1:50, in the Bookshop there is a reading from the guys at the Long Gaze Back anthology with Sinead Gleason.
Throughout the day, you will have lots of book signings in the Book Tent so it is the place to gaze at authors from afar trying not to look like a stalker!
At 3:30, Donal Ryan will talk to Vincent Woods about his craft and the boundaries between traveller and mainstream society. I've read a short piece of Donal's upcoming novel and it is going to be great.
These are my tips for the Sunday. You can choose to ignore me and just sit in the grass and frolic and saunter around Borris House. I'm easy like that.