The Festival of Writing and Ideas is in its 5th year and we have attended all five. We live about twenty minutes away by car so I really have no excuse. We also brought M-boy(the now 22-month old beauty boy) with us last year and this too. He was such a good boy although he did not attend any of the talks!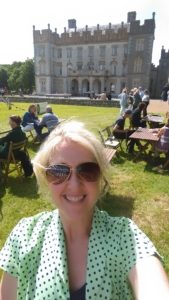 I went into the chapel to hear Danielle McLaughlin, Claire Kilroy and Ayelet Waldman(a writer I had never heard of) speaking about real life, having babies and how literature does not really show the whole having babies things well. It shows sex instead. The hour-long discussion was really good. All three read from their books. Danielle read the opening story from her debut story collection, Claire read an essay she wrote for the Winter Pages(the first she wrote after having a baby) and Ayelet read from her book, Bad Mum. They had a really cool talk about being a parent, being a hero, the toughness and brilliance of parenthood. Ayelet was very funny and handled audience questions or comments(Why do audience members feel the need to make a comment which usually involves the words I write myself when addressing a writer on a stage) and Danielle spoke eloquently and in her usual down to earth way about her stories and where the ideas come from and who does all the housework in her house. Everyone was very envious of her husband.
Claire was completely honest about the challenges of writing and being a mother but I think this is not just about women who write who are Mums. Any father who is properly involved and caring would have the same issues as a writer. So, it all depends who you are paired up with was the conclusion. The hour flew and I was released onto the lawn of Borris House with the sun shining and my two lovely boys waiting.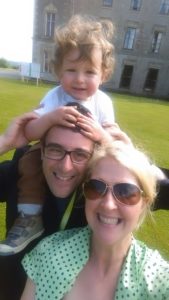 We sat and ate home fries and drank cider while the sun shone. M-boy slept. A bee went into his cover. I freaked out. I ate pulled pork on home fries. Kevin Barry and John Creedon were the top celebs to gaze at. I forced everyone I could to go see Beowulf, the one-man, emotional show by Brian Burroughs. Emrys scribbled circles on the Borris programme. I had a second glass of cider, got some book autographs and said goodbye to Borris till tomorrow.
Other great stuff that happened:
Simon got a speaker pass! I'm getting one tomorrow though I am only a lowly speaker's wife. Kevin Barry had a cuddle with M-boy for 5 seconds. John Creedon had a pic with my friend who just loves him. The bee did not sting M-boy. Bumped into June Caldwell who I've never seen in Carlow. We get to go back tomorrow!