The Carlow Arts Festival used to be in the town only. Then, it moved and stretched out to the wonderful Festival of Writing and Ideas in Borris House and the stretched further to the River Barrow and the Barges on the Barrow Festival.
I still see them as three separate and brilliant festivals and I got to attend two out of three this year! You have read my post on Borris so here is the lowdown on the Big Weekender in Festival HQ in Carlow town for the Carlow Arts Festival.
Big Weekender?
Festival HQ?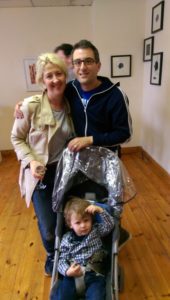 Yep, the Carlow Arts Festival or Eigse as everyone really calls it was christened with two new titles this time around- The Big Weekender was jam-packed with big names like Hothouse Flowers, Lisa Lambe, Le Galaxie DJs and Foils, Arm and Hog comedians among many more. There was the usual exhibitions from local artists like Lily O' Rourke, Blue Print(Bob Frazier) and Carlow Photographic Society and a fringe event from our writing group, the Carlow Writers who brought an Open Mic and a Poetry Slam to the Teach Dolmain, home of the writers' group.
This year the festival and its HQ and its Big Weekender took over the beautiful grounds of Visual Centre and Saint Patrick's College. This is the central spot of the town and actually the perfect and only location for an arts HQ so well done to whoever thought of that. There was lots of ale/beet tents, food tents, sweetie tents and a huge, retro playground area for kids and toddlers. M-boy, the babba boy had a great tumble and toddle around the place and would have stayed all day only we had to go home to sleep and cramp his style.
The HQ also hosted outdoor cinema, fireworks, foot magicians up in the air(acrobats) and a human library alongside the energetic Dublin Ukulele Band. I cannot mention everything I saw or hoped to see but the Big Weekender might stretch itself quite nicely into a Big Week next time! Small things like more signs, allowing small trickle of the Big Weekender onto Tullow and Dublin Street and more,more,more local talent for next year are to be suggested right now by me!
As usual, it makes me sad to say another Carlow Arts/Eigse Festival is over. Goodbye, see you soon. See you in 2017.