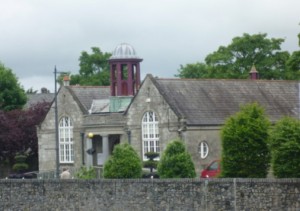 As part of their ongoing commitment to Kilkenny writers, Kilkenny County Council Arts Office and Library Service are announcing their Autumn/Winter 2012 Writers' Workshops.
A course in creative prose under the tutelage of writer Ken Bourke will take place at the City Library on John's Quay on October 10. It will run every Wednesday from 6pm to 8pm until December 5. Over the eight weeks, participants will have the opportunity to develop their prose-writing skills in a relaxed atmosphere.  They will be encouraged to identify their writing objectives in terms of how, where, what and when they will write. All forms of prose writing, from the short story to the novel, will be explored, and the focus and objectives of the workshop will be tailored to the needs of the participants. All levels of experience are welcome: the diversity of the group will be one of our key resources, but numbers will be limited to encourage full participation by all present. Ken Bourke has been a professional writer for over twenty years and is an experienced facilitator who has worked with a wide range of groups.
Poet Derek Coyle will also facilliate a poetry course which will start on October 9 at Thomastown library and will run until December 4. It will run from 6pm to 8pm. Participants will look carefully at the craft of writing poems and learn some new words and techniques so that they can become more confident readers, and writers, of poetry. Along the way participants will look at a selection of poems by leading contemporary Irish poets: Paula Meehan, Michael Longley, Seamus Heaney, Derek Mahon, Ciaran Carson, Justin Quinn, and Eavan Boland. Participants will learn about the poetic line, basic forms of contemporary poetry like the couplet and the quatrain, and by the end of the course participants will have used this knowledge to build a contemporary sonnet. The workshop will examine lots of ways to get started, from writing poems about paintings, poems about objects, working on versions of poetry in translation, and even horoscopes. Along the way participants will enjoy poems by major international contemporaries, like Derek Walcott, Mark Strand, Thom Gunn, Ruth Padel and Louise Gluck, to name but a few.
Derek Coyle lectures in English Literature and Irish Studies at Carlow College. He has published poems and reviews in The SHOp, Ceide, The Texas Literary Review, and The Irish Literary Supplement. Recently, he has had poems published in Mexico, in Cuadrivio, in their Irish issue. He has been shortlisted for the Patrick Kavanagh Award (2010), and the Bradshaw Prize (2011).
The deadline for bookings is October 5. Participants are expected to sign up and commit to the eight weeks of their chosen course. There is a nominal fee of €10 to secure you place in the course. The workshops will run over a nine week period from the week starting October 8 to December 3. There will be no workshop on the week of the October 29.
Places are limited to 12 participants per course so please book early to secure your place.  These workshops are open to Kilkenny writers only. To secure a place on the above courses please contact the Arts Office on 056 7794133/ 056 7794138 or email kaya.brennan@kilkennycoco.ie