The third story from James Joyce' Dubliners is called Araby, the title is a reference to the bazaar which features in the story itself. It also alludes to the exotic nature of the theme of the story.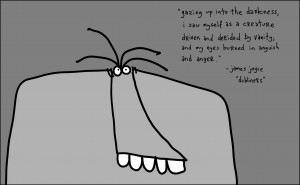 It is narrated from a young boy's point of view, which gives the story an inward and awkward feel. The main character is in love with a lovely girl referred to as "Mangan's sister", it is set in North Richmond Street in Dublin. The story is short and quickly builds to Joyce's epiphany for his character. The narrator goes off on a quest to buy something for Mangan's sister. He becomes preoccupied with this quest and his day leading up to it is tiresome and routine. So far, these themes of routine and day to day life being at the forefront of Joyce's Dubliners. He eventually gets to the Bazaar to purchase a gift for Mangan's sister.
He arrives late and the market is silent and dark. He hangs around a few stalls and does not buy anything, due to a number of reasons. He gets an awful realisation in the last paragraph when he fails his quest. A lady at the last stall rejects him. He takes this as an almost sexual rejection and is humiliated and embarrassed and sees this small incident as a big one. He turns away from the bazaar, this is the reality. He has faced up to something that most people may never face up to. His vision of perfect, sexualised and romantic love is tarnished and love will always cause pain. Routine is the best, comfort does not cause pain to a human. New experiences cause pain.
Araby is one of 15 stories in James Joyce's Dubliners, a short story collection which you can pick up for a couple of euro or free on your kindle! Bargain!
Call back to my blog tomorrow as I will be giving my thoughts on John Boyne's re modelling of this very story from the new Dubliners 100 collection. High hopes!