Evelyn, a short story by James Joyce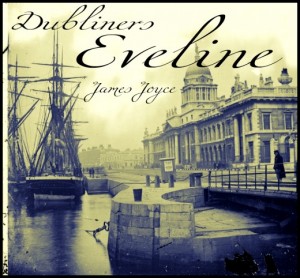 On a simple level, this story tells us about Eveline, a 19 year old lady who is trying to make a decision. To stay with her somewhat abusive father in Dublin or travel and move abroad with her sailor-boy beau, Frank to a lifetime of happiness. Her mother has died and so has her brother and she feels the guilt of being loyal to her father pulling her. The climax of the story again, like many of the stories in Dubliners, comes quickly. She makes her mind up but then changes it in the last paragraph. A really emotional and powerful story.
We get the themes of paralysis, Eveline is frozen in her thoughts and movements at the end of the story. We get that awful depressing theme of death. Her closest family members have died and she even imagines that Frank might kill her though we are given no other references to him being aggressive.
It can be read as a basic quest fable. As can the stories of Araby and The Encounter. Eveline dreams of moving to Argentina, to escape her abusive father and hold her mother's memory true. It is an idealistic persuit, though. She builds up to it and nearly follows through but falls in the last part. In the end, her guilt and sense of duty to routine, her father and her home holds her back. We do not know if she goes ever.
Eveline, a short story is published in Dubliners by James Joyce.
Come back tomorrow to read my comparative analysis and review of Eveline by Donal Ryan. I am very excited about this one. Donal Ryan is new and I am hoping this quality will bring with it the thing I have been searching for in this new Dubliners 100 collection.