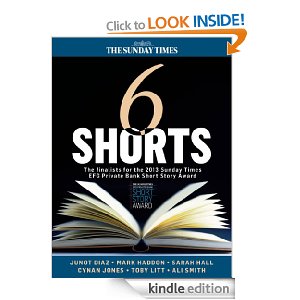 Call it "The Bug" Because I Have No Time to Think of a Better Title by Toby Litt
This is a sci-fi type short story. No. Not something I tend to read though my husband would love this. This story was written for a bio-pink collection of short stories, worth putting that into context. It is about death, mourning and sadness though written in  a quirky and experimential way. Toby Litt wrote this story when his own mother died. We feel that emotion throughout. We feel the detachment of the narrator trying to get away from the horribleness that is her own mother's death. She does this by inventing another story that she would write if she had the time, except she doesn't have the time as she has to visit her own mother who is dying. Clever. But, I don't get sci-fi. This is a pushing the boundary type short story and not all readers will like it. The winner of the short story EFG Sunday Times competition needs to be cleverly accessible and broad but breathtaking. This story is breathtaking but the way it is told may lose a few votes. Toby, don't change though. We like it just maybe, not for this.
The beholder by Ali Smith
The story opens with a person(I'll go with woman here) who is a bad way. She visits her doctor and tells him of her problems. Her Dad has died, she has recently separated and is getting depressed. So far, so normal. But, the the lady starts to notice something growing on her chest. It is a branch of some sort, which eventually grows into a fully blooming rose bush. I get it and I get what she was doing. The message is clear and she obviously wanted to challenge and push our boundaries of what we might expect. I couldn't help but thing of that film "How to get a head in advertising" with Richard E. Grant as the advertising executive that suddenly starts to notice a head growing out of his chest. It eventually eats him or something. It freaked me out as a child/teenager. So, this story was not helpful. I see what she was doing but this wouldn't be my type of story, it almost felt as if the metaphor of the rose was too pushy, too needy and looking for the reader to go "Ah-hah, I get it now" I like my stories seemingly normal but quirky but with many mysteries and hidden metaphors for me to probe and think about. This story was too much for me.