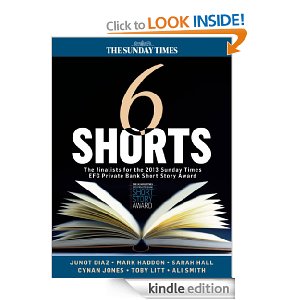 For €2.27, I purchased the 6 shorts:the finalists for the 2013 Sunday Times EFG PRivate Bank Short Story Award. That is a title!
The results will be announced this Friday, 22nd March at a very posh gala ball where only special people can go!
Miss Lora by Junot Diaz
The collection opens with Junot Diaz Miss Lora short story. It is a long short story about a boy who sleeps with his next door neighbour, Miss Lora during a sad time in his teenage life. The big difference of this story is the narration technique, Diaz opts to use the second person narrative, which we know is really the first person  but gives us the sense that the narrator wants closure and  a wall put between the past, which is narrated in the present. Don't be confused, there is no need to be. It is a fairly traditional tale. We have heard this before but the way Diaz writes is unique, he throws in the occasional spanish phrase amongst the English, which I didn't understand. He writes plainly and in a voice that is teenage and of the streets. He invites you to hear his story while trying to warn a younger version of himself away from the muscle woman, Miss Lora.
At one point, I was thinking that there was a bit too much narrative in this short story to make it a true short story but then, the ending came. And the last sentence is a really good ending so wait for that. This is a strong short story. Will it make me read more of his work? Maybe. It seems too easy to be that good that it was narrowed down to 6 best stories out of the world! But, do read it, you can get it free on the New Yorker page here.
The Gun by Mark Haddon
Wow. Okay, a few things running through me after this.
First of all, this Mark Haddon, he of the curious incident of the dog at night fame, he who is also a painter, illustrator and cartoonist. Of course, this story was going to rock but it turns out that it rocks more than I could have thought. Strangely enough, I didn't recognise the author's name for some reason until I got to the bio at the end. I'm glad I didn't as I would always be a bit worried that I had just thought this was great because it was by Mark Haddon. Like it had to be.
The story is about two boys who are from opposite ends of society. They are not friends, the story is clear to point this, they're just in the same class. Daniel is middle-class and has parents that "aspire to be average." Sean lives in a council flat with a Mum (that Daniel envies at the start of the story)and a brother who has a gun he keeps in a yellow sports bag.
And so the gun of the title. Yes, we know something scary is going to happen because of the title but also the way Haddon marks it clearly in a unique story telling way. He speaks directly to us at various points of the story, telling us that "there will be other extraordinary events in his life…Today will be different, not simply shocking, but one of those moments where time forks and fractures…" We get ready for the bang of the gun, and when it goes off, it is more sinister and numbing than we could imagine.
This is a short story. The ending is a marvel and the story never loses its pace, its authentic picture of two young lives and how an event can stay with you forever, for some reason. We can understand it and him. There were so many times where I stopped and read the piece out loud just to hear it, how did he do it? I don't care. I loved this. More, more, more. You can and you should listen to Mark Haddon reading The Gun here.
It is 40 minutes long as it is covers some of the story but an interview about the difference between short stories and novels. This being Haddon's 2nd short story but please read it! He says he finds short story very difficult! Phew!  Great to read British short story writing like this as I don't come across it often. Makes you think about what if, you all know those moments!
I'll be back when I've read the next two stories and you have had a chance to read these two stories.