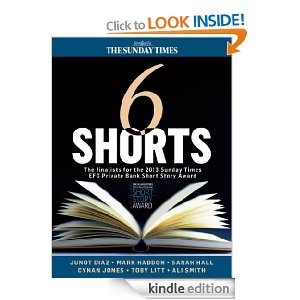 That year has flown by! This time last year, Kevin Barry's "Beer trip to LLandudno" was shortlisted for the EFG Sunday Times Short Story award and we all know that he won!
2013 brings some more brilliant writers; Sarah Hall, Ali Smith, Cynan Jones, Junot Diaz, Mark Haddon and Toby Litt are the ones to watch.
You can download the 6 stories to your kindle for the bargain price of €2.26  here.
Then, you will need to go and vote for your favourite one here. If you have been meaning to read something different or find out what the hype about the short story form is all about, then this is your chance!
I am going to spend the evening, set aside some time under my lovely, red, furry blanket my husband bought me and read. I'll let you know which one I voted for but only if you do!