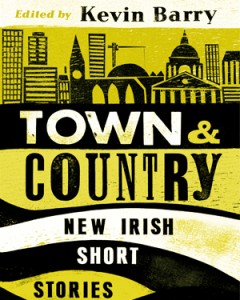 Faber Socials is on the Saturday, 25th May and am so not going to miss it.
Except I am. It coincides with a big family event at home, in the West and my sister would cut me off if I missed it for a book launch.
But, this is not just any ol' launch. It's a brand new anthology of Irish short stories. Edited by the man,  Kevin Barry, Town and Country  is featuring contributors like Patrick McCabe,Paul Murray, Nuala Ní Chonchúir, Eimear Ryan andMichael Harding.
Apparently, everyone is going to be there. Like, everyone.
One has to even buy a ticket to attend so it must be all very special. It's going to be launched in the Clarence Suite in Dublin at 6 p.m.
Hey, wait a minute, I don't have to be in the West until 10:30 a.m. the day after. I could go to the Faber event, mingle and quaff nice drinks for a couple of hours and then either travel to the West that evening, arriving after midnight. Or, I could get up at 4:30 a.m. the next morning and arrive in perfect time for the West event. A third option would be to make someone dress up as me for the West event and I would take their place at the Faber event. A fourth option would be to write to the Dublin Writers' Festival and demand(ask) that they switch the event date to the Friday instead of the Saturday. The most important thing is that I am there.
The final option is that I don't go and just go to the West and enjoy that family day, and I will enjoy it but I would love to have two enjoys.
What do you think I should do? Click on  the poll below to help me decide. [polldaddy poll="7068965″]