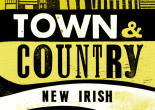 I feel like I've been waiting forever but the day is nearly here!
I'm waiting on my review copy to arrive, Kevin kindly organized for me to get one before the launch on the 25th May.
The pressure will be on to finish reading it and write a review on it before the launch…
Can I do it? Yes! Absolutely! I take your challenge, Faber!
Bring it.
Stay tuned for my review but in the meantime, here's a press release sent from Rebecca, Faber Publishing..
"These are Irish short stories and often they come in the shapes that we know and have loved in the form but also they come at a very interesting moment, I believe, when the story is being considered anew and is being pulled in many strange and unexpected new directions. The Irish story is changing and is pulsing with great, mad and rude new energies. Watch it now as it spirals and spins out –" Kevin Barry, introduction to Town & Country
After previous volumes edited by Joseph O'Connor and the late David Marcus, Faber and Faber are delighted to present a fourth collection of all new Irish short stories. Edited by novelist and short story writer Kevin Barry – whose story 'Beer Trip To Llandudno' appeared in the 2011 collection and went on to win the Sunday Times EFG Short Story Prize – this volume once again mixes fresh new voices with established names such as Dermot Healy, Éilís Ní Dhuibhne, Julian Gough, Patrick McCabe and Paul Murray, and will seek to offer fresh renditions to the Irish story; new angles, new approaches, new modes of attack.
'This volume proves that one thing we needn't be ashamed of is the quality of Irish writing.' Irish Times (on New Irish Short Stories 2011)   'This fine anthology offers reassuring proof that whatever the state of the economy, Irish writing is as strong as ever.' Irish Mail on Sunday  (on New Irish Short Stories 2011)
Kevin Barry is the author of the story collections Dark Lies the Island and There Are Little Kingdoms as well as the novel City Of Bohane. He has been awarded the Sunday Times EFG Short Story Prize, the Rooney Prize for Irish Literature and the Authors' Club Best First Novel Award, and has been shortlisted for the Costa First Novel Prize and the Hughes & Hughes Irish Novel of the Year award. His stories have appeared in the New Yorker and many other journals and anthologies.
For further information please contact Rebecca Pearson, Publicity Manager, on 020 7927 3886 or rebeccap@faber.co.uk