Dave Lordan's First Frags Launch Night was held in Mc Grattan's off Baggot Street last night.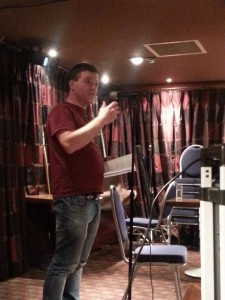 I had of course been made aware of the Dave Lordan last year in Bantry and he had also sent me a copy of his new Book of First Frags, which was launched last night.
I have read the Book of Frags but want to write a full review at some later point.
We headed in to Mc Grattan's with a couple of mates and I started chatting to the gliteratti of the performance poetry world like Billy Ramsell, who was decked out in a smart suit. Sat in by another poet, Christoodoulous Makris, A poet who originally hails from Cyprus.
Karl Parkinson, who is a performance poet was the MC for the night and he introduced Sean O' Reilly who gave an excellent and heart felt foreword to Dave' new book.
Karl kicked off with  rap and a beat. I really liked him with his thick Dublin accent, he is quite the comedian. Extroverted man.
Dave, the man of the night, read two pieces from his Book of Frags- The Iron Lady and Bones. I may have picked other ones but everyone was riveted and entertained by his passionate reading.
Once, Dave had finished his pieces, he opened the floor up to everyone. There was a huge waiting list. Who knew poets weren't shy?
We heard all sorts from Billy Ramsell "Stop the crowd" poetry and Colm Keegan's honest and just plain lovely work. It was my first time hearing both poets read and they really did sooth the place into silence and listening.
There was singing, ranting, madness and nearly tears and the Carlow Writers or the "Carlow Trinity" (as Karl dubbed us) got to read after midnight. We did fine. Just fine. I was just thankful everyone was awake!
We caught the last bus home to Carlow, buzzing from a brilliant event that showed Dave's love of the unique and out there.
Great stuff.
More.