Colin Barrett is a fine writer.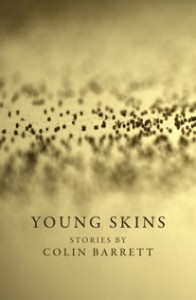 I have been waiting to read some more of his stories as I have read a few and really, really been blown away by them and his use of brilliant vocabulary that you need a dictionary for.
His first book Young Skins is out, the publication date is September 26th 2013 but the Stinging Fly will send out pre-ordered copies on September 2nd.
They are launching Young Skins at Hodges Figgis on Dawson Street on Thursday October 3rd at 6.30 pm.
Here is the taster from the press release below. Excited.
A recovering addict drifts closer to the oblivion he'd hoped to avoid by returning to his home town; two estranged friends hide themselves away in a darkened pub, reluctant to attend the funeral of the woman they both loved; a bouncer who cannot envisage a world beyond the walls of the small town nightclub his life revolves around.
Set for the most part in the fictional County Mayo town of Glanbeigh, Colin Barrett's stories deftly explore the wayward lives and loves of young men and women in contemporary post-boom Ireland.Young Skins offers an utterly unique reading experience and marks the appearance of an arresting and innovative new voice in Irish writing.