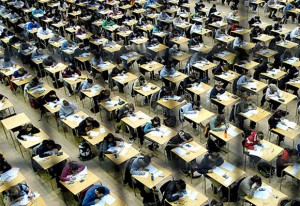 This week, the Irish Independent paper is including a supplement for Leaving Cert students and generally interested writers, I would think!
Today, it focuses on spelling, grammar, word power, paper 1 of leaving cert and the short story. We have a lovely, little article by the late Maeve Binchy about being a writer but we also get to see exactly how much the English curriculum has changed snce I was at school. I am a primary school teacher so post-primary teachers, feel free to interject if I have any details incorrect!
Students have a choice of discussion and narrative essays. Short stories are included under the narrative essay section of the paper.
Short story
Let's look at exactly what an average 17-18 year old is asked to do as part of a pressurised exam.
Option:Short story:Short story writers( the 17/18 year old) is asked to write a short story in which the central character is faced with an important decision or where the character is eager to leave home or how about a short story where two unusual characters meet for the first time.
Student are expected to study and practice the short story form as a flexible and sophisticated genre, and no candidate can memorise prepared material( how they will measure this, I don't know?), and be confident of using their material effectively. LEt me carry on. There is also an article written by Dermot Bolger, who advises the would be students on the art of writing a short story. It is an excellent article. He gives plenty good advice and urges the students to create a believable story where an "examiner might forget about the bundle of exam scripts waiting for scrutiny."
I have a couple of issues with this. If I want to attempt to write a story, it can take me months of researching, brainstorming with the writing group and writing draft after painstaking draft and I am a beginning writer! Imagine an established writer being asked to write a short story in the pressures of the exam environment of 3 hours and make it magical, brilliant and special just like one of the examples given, namely Cecelia Ahern. Hmmm, I think Cecelia herself would struggle with this task. She writes her novels on a 9-5 working day basis.
As a 17 year old student, I may have tried a patchy first draft of a story but I certainly wouldn't be comfortable submitting this to an examiner who may "get" my story or who may just be judging it by fixed criteria.
Can a short story be evaluated this way and should it? Would a better option not be to help the student look at established short story writers and establish how the craft is developed. It is strange seeing as this student will be heading off to university and will be expected to do this very thing. I certainly don't remember being asked to write a magical, special short story for an examiner in less than three hours along with a personal essay and a discussion essay. That is pressure and pointless.
Am I looking at this the wrong way? I feel anxious for any student attempting this as we would never ask adults to create a brand new short story under this type of pressure.
What do you think?