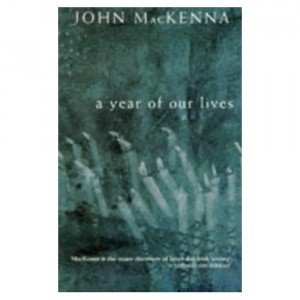 I have booked my workshop for Bantry and the excitement is building already! Simon booked in for the Ruth Padell workshop so I felt under pressure to book too!
I am going to the John Mac Kenna "Short story" workshop. It sounds active, which is important for me and John is very, very well respected as not only a writer but as a teacher.
I always try to read the teacher's or the speaker's work before I see them, it makes sense, doesn't it? I was delighted that Carlow town Library had all 3 of John's short story collections-namely, the River Field, A year of our lives and The Fallen. Couldn't believe my luck!
I have started on A year of our lives and John certainly likes the raw love scenes. I always feel embarrassed writing about sex scenes so maybe, John will have some tips for me!
I also spotted Nuala Ni Chonchuir's Flash Fiction workshop with the Big Smoke Writing Factory. It's on in May and it looks brilliant. The only problem is my above policy states that I should read all of the teacher/author's work and Nuala just has billions of books! And I don't really read poetry! Hmmm, maybe. I will just read a very old one of hers and I've read Mother America so surely that is acceptable?
How bad anyway.