The Poet's Corner Cafe in Kinsale

Of course, the name itself is going to attract writers, readers or people who like to sit and think or chat. We spotted this immediately and along with its beautiful, crisp white exterior, it tempted us in.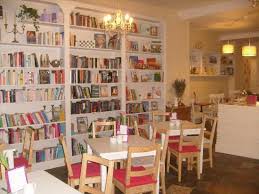 Inside, the colours of white and berry give it a fresh and thoughtful place to sit and drink coffee. The room is lined with bookcase of second hand books, all priced E3.90 to avoid confusion. I bought a barely used book which I saw later in a bookshop priced at E18!
Want to give this place a go?
Atmosphere: 4/5- Music is lightly playing and there are two couches along with many small tables and chairs which are not too tightly packed in. The staff are extremely welcoming and they leave you alone to sit, read and write. The cafe is decorated beautifully with artwork of books and reading and even the cushions are book themed!
Other Guests:4/5 Apparently, the day before a local poet has visited and treated the customers to an impronto poetry reading! The other guests were made up of couples and tourists(mostly German and English tourists) They were not too loud and did not intrude on my reading. There was no evidence of families or young children in the cafe but I saw many young families look at the name of the shop and carry on by. Children are great, just not when reading or writing!
Features: 5/5 Wifi and books. It has to get top marks for these two features.
Food/drink-5/5-Homemade cakes, lunch, soup along with locally made chocolate bars with sugar free option.
Overall:I would definitely mark this as a place to go to if you are in Kinsale and fancy a chilled out but lively atmosphere with honest food and books! I would love to see the cafe expanding their book genres as most of them were romantic fiction. Sections on poetry, short stories and fiction would be great. Also, would love to see more local events like open mics or poetry readings taking place. This cafe could really showcase the literary talent of the area.