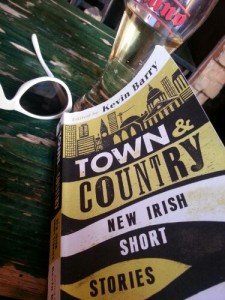 Review: Faber and Faber Town and Country: New Irish Short Stories edited by Kevin Barry.
The title and cover give a  hint towards a  far from Post Celtic landscape in Ireland and its writing. The cover art in futuristic yellow, black and white design, paints a landscape of religious buildings and skyscrapers amongst buildings in constructed transience.
Ireland is being built again from inside out and so to its writing. It is unsure to what its identity is. The title, Town and Country demonstrate a wide open feel as a member of a larger, ever expanding community. What we thought was true post boom is not and so to the Irish short story. Kevin Barry, the editor writes that:
"The Irish short story is changing and is pulsing with great, mad and rude new energies."
But, as Ireland and its literature changes and pushes through into new ways, it is still committed to the universal theme of what it means to be a human. The strength of the short story is the ability to capture a human moment and Barry says this too:
"the contours of our great human aches and sorrows are traced here."
To represent a new Ireland, to try to capture what it is that is Irish now, Barry has presented an anthology that contains many new voices. The book is all the better for this; With these new voices,we get stories about a  sometimes confused Ireland. The title Town and Country is an easy one to work with now, we move all around Ireland and outside of it. From the countryside, coasts and cities, we hear Irish voices and non-Irish ones.
The anthology is made up of twenty stories, never too long or short. Quite perfect. Relationships have changed in Ireland. How we love and what happens after we lose love is reflected throughout the anthology. Humanity in all its sadness and warmth comes rises up, time and time again.  A collection that tells us where we may have gone wrong and asks if we can get back on track again. Relationships and humanity are the short story's finest strengths and it is hard not to be warmed by these snippets of humanity.
In Tiger by Michael Harding, it is 2006 and we see the remnants of the good times in a marriage and all the material items that have to be divided up in the aftermath of a divorce. The narrator now lives in a flat surrounded by "Eastern Europeans in small apartments with paper-thin walls." His possessions are all left behind in the family home-the Aga cooker, the wok, coffee pot-all things synonymous with the Celtic Tiger years. At the end, he yearns for something real that he can never have.
Again, in Saturday, Boring by Lisa Mc Inerney, we see a new Ireland of mixed messages and pressures. This story is told from the perspective of a fifteen year old and it frightened me how real this story probably is. The teenage girl is setting out to have sex for the first time with her boyfriend of 3 weeks. The uncertainty of this act is revealed on a journey to the till in Penneys with her best friend. Once, she pays for the adult-like lingerie, the die is cast and the Rubicon has been crossed. She has made up her mind and her relationships with her father and  friendship with her best friend have changed forever. This story is handled well, it tells of the pressures young children encounter today. She feels "like there was so much to learn and so much expected of her." but this is no naive girl. She concludes that it is all nonsense and she wants "the world to slow down its revolution as to make space for her." By the end of the story, she feels "as old as the sea" and the adult reader will have the  benefit of knowing that her next action will not bestow any maturity on her.
In Second-Best Bar in Cadiz, we get drawn into a non-conventional love story. A man from Castlebar wants to make it big as a chef. He deludes himself, his lover is unfaithful, his brother is a dangerous gimp and his job is uncertain and uninspired. He rests all of his dreams on Oscar, his boss. The narrator wants to be more than "the man with a plastic fork in the emperor inn in Castlebar" but he cannot get away from the drugs and pointless relationships. I feared the worst for him and was relieved when Oscar's fate was safe but the ending is worse than this. He realises that he is "The man with a plastic fork in the emperor inn in Castlebar." We have all been there and we know he may have to settle for a part of life that he may not have imagined for himself. A return to Castlebar and all the truth it brings with it for him.
In Barcelona, Mary Costello continues to grab my admiration. She always makes it seem so simple but with one sentence, we are caught in her world, one she controls to its last breath. In this story, the narrator, Catherine is multi-faced, she is revealed piece by piece until the end. Her manic thoughts pervade the text and the setting until the ending where her husband is left confused, looking into a corner. Catherine realises that she has been too honest, she has gone too far. Her marriage is unable to cope with the reality and rawness of life. Again, a brilliant post Celtic Tiger theme and a story we have come to associate with Mary Costello, she thinks and observes and so do her characters.
Relationship breakdown and the honesty between two people is dealt with in Nuala Ní Chonchúir's Joyride to Jupiter. The story of a man whose wife is starting to collapse with dementia in old age. Storytelling  comes too easy to Nuala. She writes the type of stories that the reader might think they could do but the way she builds this story to a tear provoking climax is a gift that is hard to come by. In Barcelona and Joyride to Jupiter, we see two very different relationships. Both deal with being true to yourself and the one you love. However, the ending for Nuala's character was made chillingly real and left me affected. Anyone who loves takes risks, the narrator realises this and he is stirred to memories of their life together, the good times of  "paradise squares, our daughter's nervous glancing in the rear-view, dancing in Banba Hall, a single coral rose, the spongy hump of the pillow." The risk was worth it.
The Clancy Kid by Colin Barrett is a stand out story. Colin's stories have been coming up every so often with these wonderful stories. His collection is due this September, an excitement for me. I find his writing very cool and urgently unique. The Clancy Kid is a good, solid Irish story centering on the character's  relationships. It opens up in any old pub in any town in Ireland. Two men are speaking about their obsessions. One a woman he can't have and the other a child that disappeared, the Clancy Kid. Their friendship drags through the story, rising until the strength at the end. This is a story of the bromance. A typically Irish one, there are emotions all over the place, left unsaid and at the end the narrator concludes that "we all have things we won't let go of." The narrator cannot let go of what he could have had with this girl and his friend cannot let go of the Clancy kid. They look back on their nameless town after a wonderfully troll fairy tale-like adventure with some scary children and they see that the kids have gone. Were they there at all? The story tells us of the importance of the simple things, growing up and the fear of letting go as we do so.  Brilliant characters, typically Irish yet brought to life with a contemporary feel. A story that left me thinking and counting the days off till September and Colin's book is published with the Stinging Fly.
In City of Glass, its opening gives the impression that this is another story about immigration and poor old Ireland in the early 1990s where then old men cycled in bicycles. Was this another landscape heavy story by an American writer with a glint in their eye for Ireland?  But, it wasn't. In fact, this story summarises the story of Ireland in 1989 and compares that Ireland with the one we are living in now. The author Molly Mc Closkey  says that "The country was like a beautiful failure." She brings the main character through a series of relationships pre and post Celtic Tiger and concludes that "Now, it was like we all existed in some nebulous after-life, a vantage point from which we gazed down on everything we had destroyed…all the parallel dimensions in which we were reconciled." A humanistic take of what went wrong in the world and Ireland and how strong relationships matter. This story cements the meaning of the stories in this book, a non sentimental look to the past can push us forward to feel gratitude that we will survive. We may not know where the future is but we can feel excited that we have come this far, from the days of the original game makers like O' Connor and Trevor to a new pulse and style.
Barry advises us to "Watch it now as it spirals and spins out" I wait patiently  for the next Faber and Faber anthology with a strong  hope that our new community who are living here, originally coming from outside Ireland will add to this changing landscape of the Irish short story. This is my biggest wish for Irish writing and we are moving towards this. The Town and Country Anthology is a step towards that landscape.