I wanted to go to one event, at least for the Dublin Writers' Festival 2013 and when I saw that Colum Mc Cann was giving a FREE master class in the Writers' Centre on a sunny evening in my favourite Irish city(Galway comes close) then I got myself all organised and clicked the "Order free tickets" button on the Writers' festival website.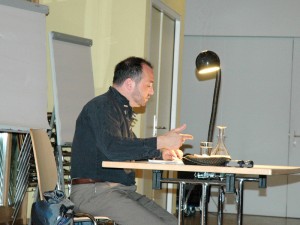 Simple!
I have not read Colum's books. Shame on me. In my defence, I am reading, reading,reading and he is on my list. I'm behind that way. I only caught the Sopranos ten years after it aired. Same as Sex and the City. And Solace. I want to be ahead but life takes over.
Now, with that openness clarified, we can both enjoy a little piece on Colum Mc Cann and his master class.
He arrived in, in teacher mode, which I was delighted with. I get very tetchy when writing events turn into to the participants taking over and telling us how they write. Etc. etc. I'm here to hear the best selling author. Quiet down the back, please.
Colum spoke for about half an hour, telling us about his use of multiple narrative voices in his book, Let the great world spin, you may have heard of it. It did okay in America.
I liked Colum's style of teaching. He gave us a nice bit of lecturing and then encouraged(blatantly targeted and pointed fingers, teacher style) us to ask questions!
I asked him about the short story and the novel and how the narrative voices differ. He was of the opinion that multi voiced narrative doesn't work, I would agree. The short story is a whisper in the ear so one does not have time to switch perspectives though he recommended using the first person and the third person for the same character. A hard one to pull off, he said but well worth it as it is different.
I had to skip away even though Colum hadn't finished, to catch the train but I really enjoyed the masterclass and learned loads. Thanking the lovely people in Dublin Writers' Centre and Dublin Writers' Festival.