The Spinning heart by Donal Ryan:Reviewed by Simon Lewis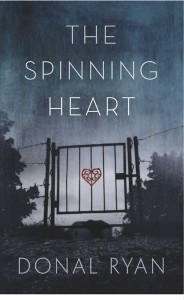 Sometimes nagging isn't a bad thing. For the last couple of months, Rozz has been at me to read The Spinning Heart by Donal Ryan. She was claiming that I would really like it and I stubbornly ignored her until we were packing for a New Year's trip away where she forced me to put the book in my rucksack. We were on the ferry from Rosslare and I had planned to take advantage of the ship's free wifi when the "moderate" sailing conditions left me face down on a pillow. When I woke up, there was only about twenty minutes before we arrived at Pembroke so I took the book out and started. By the end of the first paragraph I was hooked.
The Spinning Heart is a collection of chapters with a different narrator in each one. All the narrators are connected in some way to Bobby Mahon, the protagonist, and first narrator of the book. All the characters write in the first person and each have their own unique voice and way of portraying their world, a small village in the middle of nowhere in Ireland, post Celtic-Tiger where most of the men were in the building trade and have been left in the lurch by a guy they worked for. As each character takes to the stage, we learn a little bit more about how they are coping with this sudden adversity in their lives.
The thing that jumped out to me was that I could instantly see every small village in Ireland in each of the characters. Donal Ryan has captured the voice of early 21st century rural Ireland – men who had to underachieve because it was expected of them, the appetite for gossip amongst certain women and those who are either too simple or too trapped to do anything about where they are. The book is wrapped up nicely with a chapter from Bobby's wife, Triona, who clears up any ideas that we may have had through reading some of the other characters.
I'm really glad Rozz made me read this book. The only problem now is that I believe that because of this triumph, the suggestions are going to come more regular and I may find my rucksack becoming weightier.