Had a little first family city break to Amsterdam last week. Emrys was the perfect boy and Simon was the perfect husband, as always!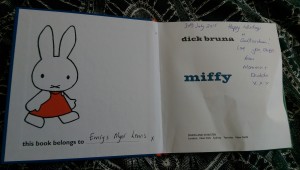 We stayed in an Air B and B apartment and I got the chance to read a couple of stories. I am savaging Wells Tower, "Everything burned, everything ravaged" presently and managed the first story from the Madeleine D'arcy collection, Waiting for the bullet. I am so nearly finished with Paul O' Reilly's, The girl missing from the window.
Holidays are great for reading and I am pretty chuffed that the Mboy slept on the plane there and back. Happy days! Writing was zero though, there was far too much walking to be done! We hit the Jewish Museum, the Jewish Quarter, Van Gogh Museum, the Miro Gardens and the Ann Frank House to name a few. Mboy was also treated to the Ajax football arena by his father. I was let off to walk, shop and drink coffee and read. Nice tradition to start!
We also treated the Mboy to a classic, Dutch, children's book. Miffy is a character I remember well and I am sure you do too! I bought the original and first Miffy for him. I'd like to start a thing. Problem is that Dick Bruna, who wrote these books 60 years ago wrote them in the spirit of the time so Miffy's Mum is busy cleaning the house and Miffy's Dad is out in the garden. Proper order. 😉