I am reading and devouring How Fiction Works by James Wood. One might wonder why I have only started this now but give the girl a break? There are so many how fiction works type books out there and it takes time and money to buy them all! Two different workshop tutors that I have attended recommended this book, Nuala Ní Chonchúir and Claire Keegan.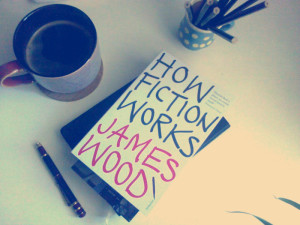 The book is written in easy to manage sections with each section being numbered and leading to the next section while adding to the last. It is written in an easy style but with much thinking encouraged and much debate caused in the Lewis household.
Ok, I admit that I was the one talking at Simon about this book but he enjoyed the references to poetry in it and there are a few interesting paragraphs on poetry and its difference to the fiction genre.
I am currently re-reading it and highlighting and scribbling on it and making all sorts of heart drawings in places where I thought up the idea way before James Wood.
Really.
Get it.
How Fiction Works by James Wood is published by Vintage for about 10€ on bookdepository.com