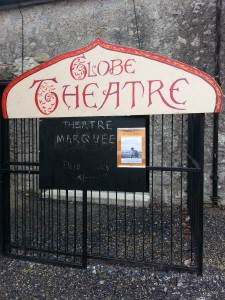 For the second year( I think!) running the History Festival has been drawing in the crowds of history buffs, professors, nerds and this year-a Rozzie!
Our friend, Terry, who may or may not be happy for mentioning him decided to go this year. And about time, he is officially one of those people who can call themselves a Historian!
Duckett's Grove is ruined mansion and gothic revival castle with pleasure gardens to boot. It also has a most tempting Tearooms ran by the lovely Madeleine Forrest who bakes naughty and non naughty treats every Sunday, all day. And quite easily, the best coffee served in a big, hearty mug and a bit of chat from herself!
Fifty leading historians and thinkers from Ireland, the UK and the USA all came along to entertain the packed out crowds over the weekend of 15-16 June and there was a great range of debates, discussions, readings and interviews.
First, we went to the Kavanagh epic one-man poetic play, The Great Hunger. It went down well and Peter Duffy who took on the solo roll was outstanding. Afterwards, we sauntered onto a whole heap of events from a genealogy clinic appointment to a live chat with Nicky Byrne from Westlife and his family who were brought up in tenement Dublin. When I saw his name first, I wasn't keen as their music wouldn't be my thing but Turtle Banbury, the curator of the festival kept it lively and history focused and fun! He was aided  by Nicola, Morris, the director of  Timeline Research. Terry went to loads of other "serious history events, like" and he left Carlow a right, little, happy historian.
It was €20 for a day pass which gave you entry to the plays, debates, clinic and films that were being shown all day through. Brilliant value and fabulous setting. We are proud people in Carlow. Don't miss the next one!