The shelter of neighbours:short stories by Éilís Dhuibhne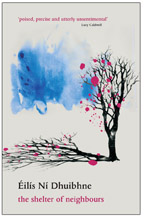 Yes, I am aware that Éilís Ni Dhuibhne released her new short story collection a couple of months ago while all the other people had read, reviewed and moved on. How do those people do it that quickly? I take my time with a short story and read bits of pieces of other short story writers. I think it allows me to contrast the styles and content. While, I was reading Shelter of Neighbours, I was also reading Jamie O' Connell and Sarah Hall. It's a hard life!
In shelter of neighbours, Éilís focusses on the writer as a tool to almost tease the existence of a writer and their life. Jamie O'Connell does this frequently in his Some kind of beauty. Éilís writes in an easy style, her characters are mostly odd balls, fristrated with life and the ordinary. My favourite ones are the ones that take on a macabre sort of quality. A literary lunch and Trespasses  are gems, in this sense. In The moon shines clear, the horseman is here, the main character goes though a sad return to the past and you will by reading furiously to see what happens in the end!  I really liked the way she set different short stories in a fictional estate in Dublin, the characters intertwine in a minor way throughout some of the stories, which is nice. It makes the short story genre move back and forth into the novel genre. Bikes I have lost is about 50 pages, almost a novella. The story needed this though I don't quite understand the ending!
Many of the stories speak of an older Ireland, with one story "The Blind" forecasting the present day of money, children and priests in a subtle way.
Overal, the stories are so comforting, nothing much happens or so we think until the ending builds right up and we look back and piece together the moments she had created.
You can buy her book on kindle or in paperback here.