A fab time was had in Galway city for Culture night 2016. I was reading a story of mine which had been longlisted for the Over the Edge New Writer of the Year competition and Simon was judging the Poetry Open Mic. Elizabeth Reap was there reading from her debut novel, Red Dirt and Karl Parkinson was reading from his new novel, The Blocks. They are both excellent readers of their work. Karl's book is hilarious, great stories in there and well-told by Mr. Parkinson.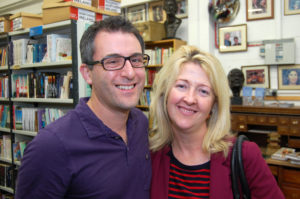 The next day, we went back to Kenny's Bookstore to spend my winnings(I came third in the Open Mic Fiction) and Des, the owner took me around the massive bookshop and showed me his top pickings. I will post on these later.
Thanks, Galway, Fun was had, for sure!
A picture of us here that was taken by Dean Kelly, the gallery and event organiser there in  Kenny's. Apparently it will adorn the walls along with Roald Dahl, Edna O' Brien and thousands more who have visited this very cool bookstore!
Nice!