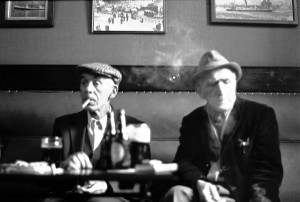 I love when I get my copy of the Stinging Fly. I look at the front cover for ages, leaving it ruminate on the kitchen table, until it's taken up and started.
That's my routine.
This issue, the Spring 2013 one is particualrly lovely. The cover is softer and more tactile than usual. A commanding sketch juts out of the light grey background and it has me. I show it off to everyone who will look.
I read the editorial first and then it's straight to a name that just keeps coming up-Colin Barrett. He is a Mayo man so there is an affinity there! His bio reads well and sensibly. He has done the MA in U.C.D. He's been published in the Stinging Fly a couple of times and they're bringing out his own collection of short stories in September 2013. He also is getting one of his stories published in the upcoming short story collection Town and Country alongside the huge Eilis Ni Dhubihne and Nuala Ni Chonchuir. It will be edited by the lovely Kevin Barry so you can guess I'm reserving a copy already.
I've already told myself that I'm going to like Colin's story Kindly forget my existence.  I've concluded this from his bio. Some of the bios I read in certain magazines make me itch and feel annoyed. I don't want to read your story or poem if you are trying to be too funny, too serious and trying to pretend that  writing is just a small distraction for you in your wacky life. So, get your bios checked and vetted. I charge a small fee for this type of vetting and I'm good.
Kindly forget my existence is a very good piece. Nice and long and plenty time to settle into it. Two friends, Eli and Doran meet in a pub with an Eastern European barman who goes awol during the story, allowing the real story come out.There's a funeral and lots of smoking. I felt echoes of Kevin Barry's Fjord of Killary story. The men and what they speak of also come from a Kevin Barry slant but use language and vocabulary that are the author's, Colin Barrett's own. Colin uses big and clunky words, he does not shy away from adverbs or adjectives when needed, which makes me feel happy. His story telling is not sparse, it gives us plenty detail but leaves out many parts of the story that we don't need to know. The title speaks of Joyce, borrowing from The Dead.
More of this is needed. I really liked it and of course I see a future for Mr. Barrett.
And now, onto a poem in the Stinging Fly. Hmmm, who has the shortest bio? Michael J. Farrell, it is.
It's just a personal theory, please don't think I'm crazy or right.
Here's a freebie Colin Barrett short story from the fiftytwostories blog http://www.fiftytwostories.com/?p=1710