Finally got around to seeing Birdman recently. It took time!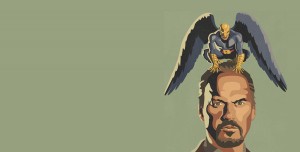 I absolutely thoroughly enjoyed it from start to finish. Michael Keaton and Emma Stone completely rock. The way it's shot is my thing too. But, the best thing is that it uses the most well-known short story from Raymond Carver, What we talk about when we talk about love. 
The film shows a washed up, former action hero actor who is trying to direct, adapt and star in a broadway version of Carver's short story. The film and the show choose to use Carver's editor, Gordon Lish' edited version of the story. This story is more aggressive and sweary than Carver's gentle one. But, most importantly it is more suited to the theme of the film-art versus commercial and giving the audience what they want as opposed to making real art.
Critics and fans of Carver have been very unhappy about this fact but I think it works as that's the whole point of the film.
Anyway, what I do think is I want to go straight back and read Carver's wonderful story and hope one day someone will put this on the stage!