I get sent books, which is most excellent as I do love them!
The majority of them are longer pieces of work, novels or novellas. I got a new novel yesterday, which is great but it makes me feel as if I am abandoning my first love of short stories! And then, I focus on reading the novels and actually do forget the short story collections, of which I have quite a few to get through!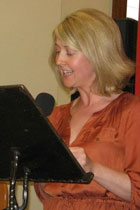 So, to focus me and give me a challenge, I'm going to read and blog about a new short story every day. It may very well be that I blog about a full collection in a week and a half or read random stories from all over the bookshelves in my house. Either way, I hope it brings me into focus and it promotes the brilliance that is the short story!
I will be starting off with the short story collection, In Exile by Billy O' Callaghan and his story "The Body on the Boat" tomorrow. And there is to be no cheating on my part. Therefore, I am setting myself rules. No bulk reading of stories. No bulk and pre-dating blog posts.
I am going to try this for the month.
Let's go!