A little cloud, a short story by James Joyce
If any of the Dubliners' stories could summarise the pain of human beings, A little cloud would be it, I think!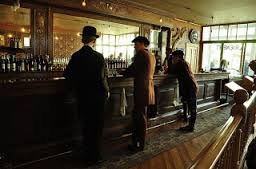 Little Chandler is, well, a little man and he bumps into an old friend, Gallaher. The two are in total contrast. Little Chandler has a wife and baby and steady job. Gallaher is a rich and party type animal of a journalist who has travelled everywhere, including Paris and London!
Little Chandler spends most of the story having very depressing thoughts intertwined with uplifting ones only to be brought back down to sudden and dark epiphanies. He dreams of being a poet. He feels he is trapped in the routine of life, like many of Dubliners' characters. The story and his life go around in a boring circle. He wants what Gallaher has but is not prepared to do anything to get it.
A great story and great fun.
A little cloud is written by James Joyce and can be found in the short story collection of his called Dubliners.