Kevin Barry:West Cork Literary Festival, 2012
I got to meet and chat with Kevin Barry,author of "City of Bohane: at West Cork Literary Festival. I've uploaded the interview as it is. Kevin was so generous with his time and I think you will find lots of practical, solid advice for the writers out there. I've certainly taken it on, since the festival, I've focussed myself to writing a new story every day. The idea is that over the year, I'm bound to find a couple of good ideas to run with. And, it happened today! I made a kernel of something that I think I can turn into something, story like! It also occurred to me that writers are mostly inclusive and motivating folk. I don't know any other aspect of the media world that would be so giving of their time and help. And yes, Kevin has described himself as having a gigantic ego but he absolutely hasn't. I miss Bantry and all the writers, cannot wait to return next year. In the meantime, we have the Cork Short Story Festival to look forward to, which I will be covering. Kevin is reading at this too. Those Cork people really have it worked out, don't they? If you haven't had the pleasure to read "City of Bohane", I insist you get it and devour it! You can buy it here.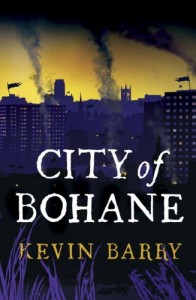 This edition is the new,swankier cover. I have only got the old, orange original. Anyway, you just want to listen to Kevin. Enjoy! Listen here. kevinbarry1 I will upload part 2 after a few days!