I wrote a story called "In the event of a sudden loss in cabin pressure" for the Post-Celtic Edition of Wordlegs magazine back in 2013. Elizabeth Reapy was the Editor and I was so chuffed to be featured in that edition. I got to read my story at the 10 days in Dublin Festival and it felt good.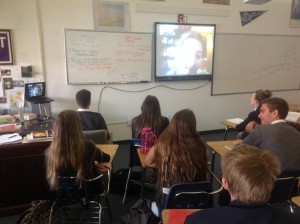 Last year, when I was busy growing a baby inside me, a man called Pete Clark contacted me. He told me that he had discovered my story "In the Event of a Sudden Loss in Cabin Pressure" during Summer 2013 from Wordlegs Press and that he was currently using it in a short unit on Irish literature for his Grade 10 class. How did he discover Wordlegs magazine? He told me it was through a man named Victor Luftig. He has worked at Brandeis University, University of Virginia, and other places. Here's his bio. Pete told me he had been a big inspiration regarding teaching and academics and bringing it to high school students.
Pete asked me if I would speak with his classes via skype one evening so we set up a meeting there and then! I had an energetic discussion and Q and A with the two classes who are looking at my story and I thoroughly enjoyed it. They had taken such time and care to put together questions and thoughts about it, the Irish and literature, the Celtic Tiger and recession and how these had impacted on writing here. We talked about the themes of expatriation and repatriation that are parts of many cultures, but have certain and unique questions when applied to our Irish experience and how that impacts on literature and the arts.
It felt great, thanks to Victor, Pete Clark and the students.
My story "In the event of a sudden loss in cabin pressure" ( and some other ones) in the WordLegs Magazine can be downloaded and read here.posttigerstories