The Sunday Times EFG Short Story Award prize shortlist is out and it closes on April 4th when the winner will be announced at a posh ceremony in London. Junot Diaz won it last year with Kevin Barry, hero winning in the year before.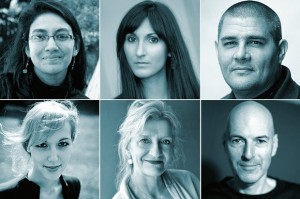 I've downloaded the shortlist to my kindle for 2 pounds sterling! I've just finished the first three stories and all are exceptional and moved me me in different ways.
The first one is Anwar Gets Everything by Tahmima Anwar. the Booktrust website has a lovely space for each author and story. Check it out a http://www.booktrust.org.uk/SundayTimesEFG
In this story, a construction worker in Dubai lives to regret quarrelling with his fellow colleague. It is beautifully and poetically written and tells us how awful the situation is. The title and ending are genius. When I read this, I pronounced it my favourite but then I had to read on to the second and third ones!

The second story shortlisted is Othello by Marjorie Celona.
The story is set in small American town with the narrator thinking back to his teenage years and his step-brother who has autism. I loved the voice and style of this, seems as if it was easily written but that's a compliment as I know it wasn't. Autism seems to be a feature of fiction recently. Not sure why. Either way, the characters are all real and touched me but wasn't to convinced by the ending and hoped for something else. I did really liked this tough especially the way it was told. A female author capturing the male, isolated voice brilliantly.
the third onem and my favourite, so far is Nirvana by Adam Johnson.An oddly touching scifi story of love between man and wife. This story, behind all of its geeky references to google glasses, android, drones, holographic images of the President, is primarily a love story and how a husband feels when his wife is facing the end. Really powerful and my favourite out of the three so far.
I will read the rest over the next week and post back. You can vote for your favourite but don't do it unless you have read the stories and read my reviews, of course.
Patience, please.